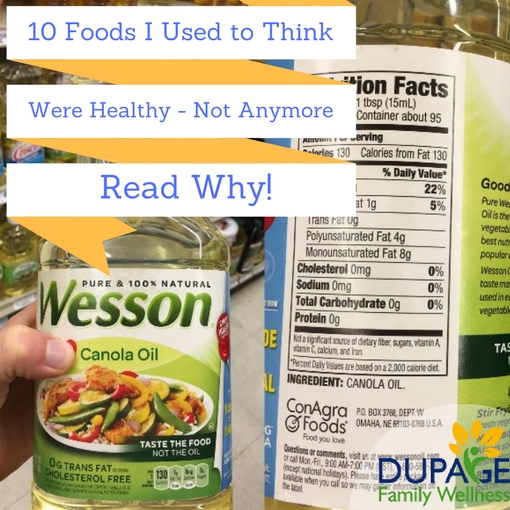 I used to be a calorie counter. I figured if I ate less calories than I burned, I'd lose weight! When it didn't work, I was confused.
Many seminars later, I now understand that our food is MUCH more than just a source of calories! Our bodies are not simple scales, balancing calories in and calories out. Rather, the body has many complex chemical systems that break down the food we eat and process each ingredient in a different way!
I took a walk down memory lane at the grocery store yesterday, taking photos of foods I used to buy because I thought they were healthy. Keep reading to see these photos, along with the reasons that I no longer buy them. Note that my concern is with the entire categories or types of food, and I am not trying to single out the particular brand pictured.
Food Marketing Is Tricky
An important point to keep in mind is that food marketers can be really tricky. The food marketers do a fantastic job of making foods look and sound healthy to the consumer. They throw in buzz words like "gluten free", "low fat", "heart healthy", "all natural", etc. to make us believe the foods are good for us. What do these words really mean? I'll point out examples as I go!
Also realize that their bottom line is the main concern of companies that make these products. What helps their bottom line?
Making the food as cheaply as possible.
Making the food's shelf life as long as possible.
Making the food addictive so we want to keep eating it and buying it. They test combinations of sugar, salt, fat, and chemicals that taste good, AND keep up coming back for more.
These corporate motivations are NOT in our best interest! I don't want the cheapest ingredients in my body. I want my food to go bad! This sounds weird, but if it will last on a shelf forever without bacteria consuming it, it must be full of chemicals to keep the bacteria away. Why should I eat it? Finally, I don't want to be addicted to my food. Everyone knows that it's hard to eat just one chip or cookie, but you don't notice the same addictive behavior when it comes to broccoli or an apple!
Let's get started with the foods. They are in no particular order. It's hard to read the labels. To see them better, click on the picture, and a bigger image will pop up in a new window on your computer.