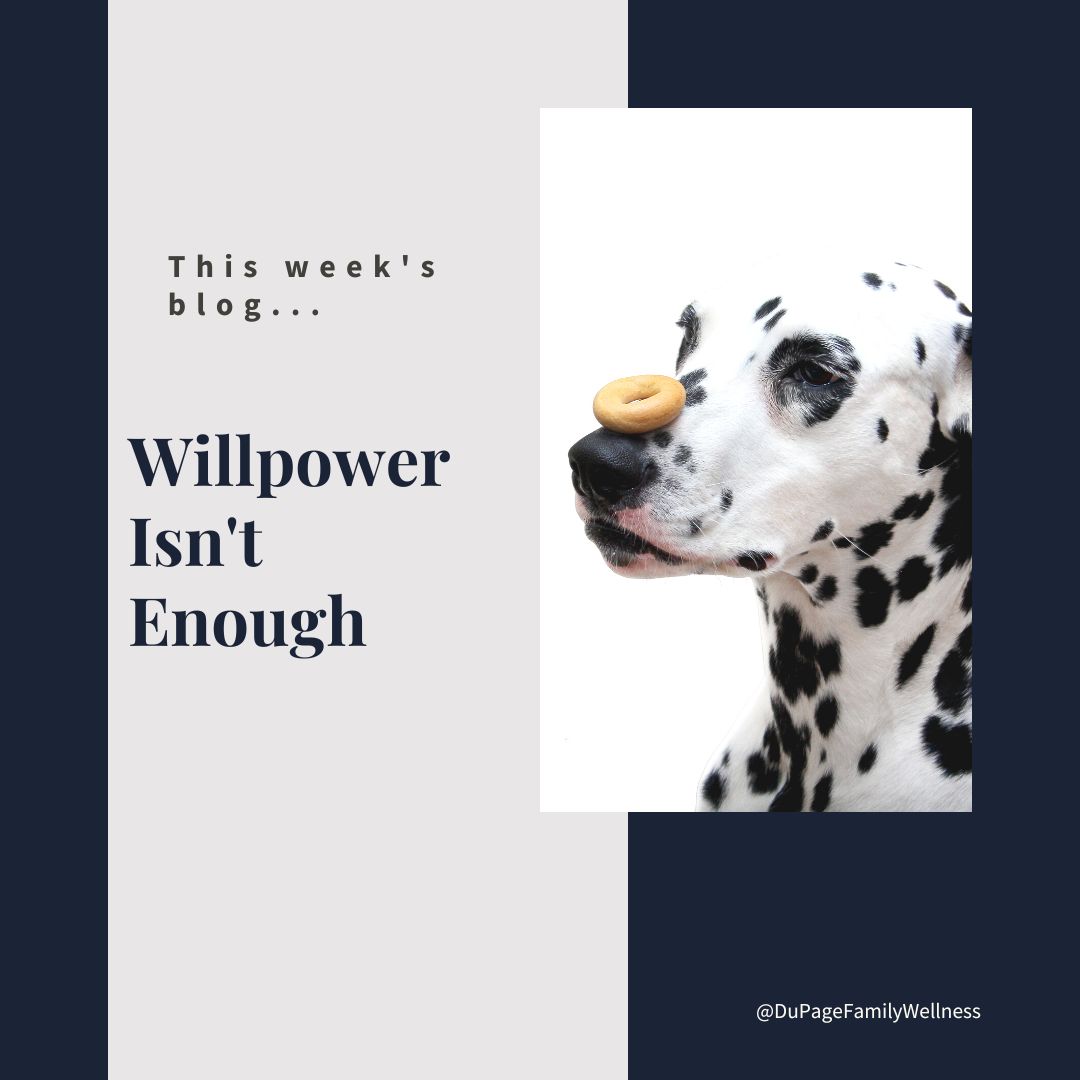 I try to convince all of my patients to eat mostly "real food." Nutrient-dense unprocessed foods like vegetables, fruits, meats, and fish will help you feel your best.
This week, a patient told me that her biggest obstacle to eating real food was that her husband kept bringing home unhealthy food and snacks. When she asked him if he'd change his shopping habits he said, "Can't you just have better willpower?"
Having the willpower to not eat processed foods is INCREDIBLY HARD if not impossible. As humans, we are designed for survival. In the past, eating lots of high-calorie food actually helped our ancestors survive.
Let's explore this design and how it influences our willpower today.
Our Ancestors
Food used to be scarce. When our hunter/gatherer ancestors were around, it was difficult to find or kill enough calories at times. When they did, they ate! They were not going to let food go to waste. If they had access to fresh honey or ripe berries, I'm sure that they had their fill.
They didn't need any "willpower" because it was in their best interest to eat as much as they could. After all, it could be a while before they had access to food again. Unfortunately, this survival instinct hasn't changed, but our environment has.
Today
For many of us, food is no longer scarce. Fatty, sweet, salty, decadent snacks abound. Most of the time these snacks are highly processed and not healthy. Nowadays we even have food scientists specifically working to make these foods addicting.
And yet, we BEAT OURSELVES UP for not having the willpower to avoid these snacks. We ask ourselves, "What's wrong with me that I can't avoid sweets, chips, or soda?"
Absolutely nothing is wrong with you. Generation after generation, you were wired to WANT to eat calorie-dense food when it was available. It was crucial for your survival.
Can you imagine if our ancestors had access to the snacks we have today? They would eat all the snacks too! As humans, we are wired to do just that.
Making a Plan
Once we understand this survival drive, we can stop beating ourselves up and make a plan that will better set us up for success. Here are some things to try as you strive to make healthy decisions.
Think about what foods you WANT to eat to feel your best. These are the foods to keep in your house and other environments that you spend time in. Your willpower will only last so long, so make the foods you don't want to put in your body harder to access by leaving them at the store. (Note: Make this plan when you are not hungry, sad, mad, tired, etc.)