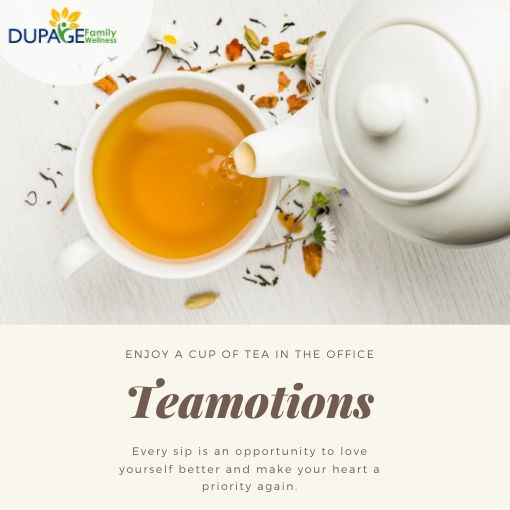 We are excited to introduce a lovely brand of loose leaf tea that was created with your emotional wellbeing in mind. Teamotion is a unique company with a story of compassion and healing behind it's beginning.
Let's take a quick look at these teas and the story behind them. Be sure to enjoy a cup of one of these teas the next time you come into the office!
Teamotion's Story
This story is one of sisterly love in a time of heartbreaking loss. When Rachel went through the devastating loss of her twin girls shortly after their birth, her sister Crystal came alongside her with compassion and care.
As they looked for help to deal with their grief through books, support groups, and the like, they found it that it simply wasn't enough. The hard path of grief had no answers.
During this time it seemed like Rachel always had a cup of tea with her. One especially difficult morning, Crystal wedged herself in the armchair next to Rachel and said, "I wish there was something I could put in your tea to make you feel better."
In that moment, as the sisters looked at each other, the idea of Teamotions was born! As they began their research, they realized that there was no other tea on the market designed to nurture your mind, body, and soul. It took a year and a half to formulate blends that were both therapeutic and delicious, but it was well worth the investment.
Teamotion Products
The quality of these teas and their unique design make them like no other. They are...