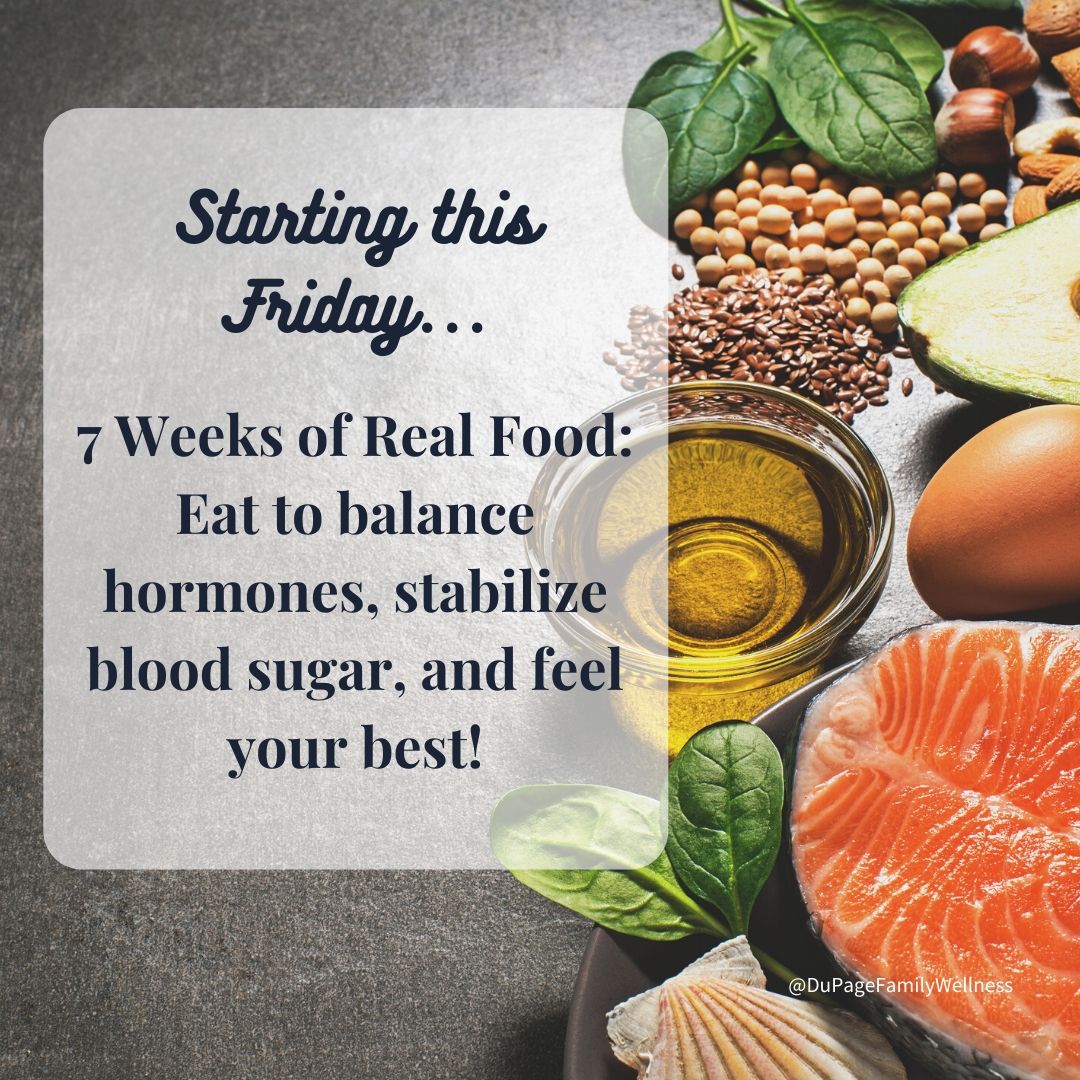 Are you ready to make some changes to start feeling great? Do you want to encourage your family to be healthy by setting a good example for them and teaching them life-long healthy habits? Are you thinking about becoming pregnant and want to prepare your body by giving it the most nutrient dense food possible?
If so, Dr. Jamie's program "7 Weeks of Real Food: Eat to balance hormones, stabilize blood sugar, and feel great!" is for you.
What to Expect
This online self-paced course is full of great information, sample meal plans, and shopping lists distributed through daily emails. It provides guidance on what foods to eat freely, what to limit, and what to avoid completely. All of the material will be given through DAILY emails. But you don't have to make these changes on your own!
Participants are invited into a community of like-minded individuals who are on similar paths to healing. We will connect weekly through optional zoom calls and an exclusive Facebook group. The community is where we will support one another, ask questions, & exchange ideas.
Throughout this "7 Weeks of Real Food", you will learn how to make LIFELONG changes to your diet so that you can improve your health and longevity. For less than $2/day, you can learn skills and form healthy habits that will help you to feel better for a lifetime!
Why Now?
⁠Most people are experiencing increased levels of stress in their lives today! Since stress wreaks havoc on your system, now would be a great time to support it through proper nutrition.
Your gut impacts literally EVERYTHING in your body! Investing in gut health will make a huge impact in your body. Your cycle, hormones, gut, skin, brain, and immune system will thank you!
Will I Lose Weight?
Our goal is to move clients towards ultimate health by addressing underlying inflammation and healing the gut. This healing is all about eating the right foods! It isn't about counting calories or eating less, so you won't be asked to go hungry on this plan.
And although many of our clients move towards their ideal weight, our focus is nourishing and restoring the body - not weight loss. You will find that your overall health and wellness is so much more than a number on the scale.
What Are Others Saying
"This new way of eating real and whole foods is amazing. The daily education via email was so beneficial. The information was so eye-opening!... Having that daily communication, really helped to keep me on track."
"It has been great!! Love waiting to get the daily email to see what the next discussion is. Easy to follow instructions along with personal support. Love the program. Dr. Jamie's wellness program is a great way to get you started on a healthy eating program. Great recipes, guidance and support. It's truly amazing how great you feel when you start making healthy choices."- P.H.
"Both my wife and I plus a couple of family members have done this wellness class. Speaking for myself, I read the materials and it made so much sense to follow the program as it was laid out. It was a little rough giving up a few foods I really enjoyed but we found so many substitutes that we never realized were this delicious when prepared by us. Many of the recipes and suggestions we saw online were filling and made 2 meals in some instances. I feel much more energetic and seem to sleep better. If you stick to this program you will NOT be disappointed. It is well worth the commitment and you learn so much about your body and habits." - J.S.
Count Me In
Are you ready to get the support you need to make these changes so that you can feel your best? That's great! To access "7 Weeks of Real Food" sign up here today.
Need a little more information? That's okay too! Our website has all the details. But don't wait too long. Class starts on Friday, May 8th and you won't want to miss a thing.
I am so excited to share in your journey as you take the next step on your path to health!
Dr. Jamie
---