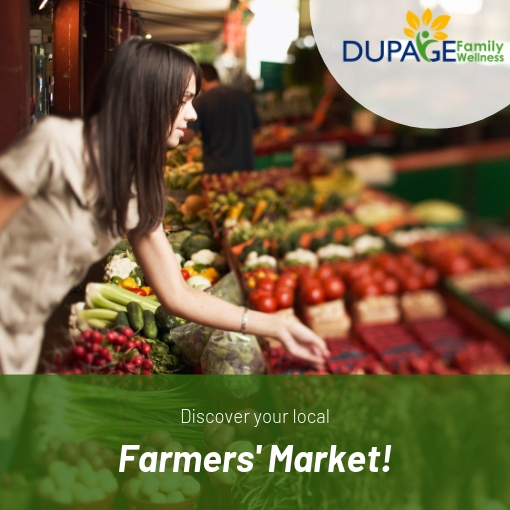 It's almost summertime and Farmers' Markets are starting to open up across many communities in the area! In addition to being a fun way to connect with your community and support local farmers, these markets are great places to buy nutrition produce.
The Benefits of Buying Local
When it comes to produce, buying local is the way to go! As soon as produce is picked, it starts to lose some of its nutritional value. Since most supermarket produce travels hundreds of miles from where it is grown to the store, it is out of the ground for quite awhile before it ends up on your dinner table.
Studies have found that levels of vitamin C and folate significantly decrease in produce over time. Eating fresh produce in season will give you more nutrients than eating the same produce in different conditions.
What About Organic?
Many people wonder if it is better to buy organic food from there grocery store, or produce that is not organic from a local farmer.
This is where it is important to talk with the farmer about their practices. Many local farmers use organic farming practices, but are not certified organic.
There are many reasons that a farmer may choose not to become certified even if they use organic practices. Some small farms do not want to invest the time or money it requires to become certified. They may already have a customer base that trusts them without the organic label. Others do not want to deal with the extensive paperwork, regulations, or inspections that are required.
Chris Kresser believes that "buying your produce at local farmers' markets, or even better, picking it from your backyard garden, are better options than buying produce shipped from hundreds or thousands of miles away – regardless of whether it's conventional or organic".
How to Make the Most of Your Trip
There are many ways to get the most of your trip to the Farmers' Market.
Find a market that works with your schedule - there are many markets in the area. While it is smart to find one close to home, there may be another one that fits in your schedule better.
Go to a few local markets - each market has different vendors and may have a different feel. Find one that you enjoy shopping at, so that you look forward to your trip every week.
Walk around the market before you buy anything - this way you can see your options before committing to a purchase. You may find produce that looks better or cost less from a different farmer.
Bring your family and make it a fun outing - this will help your whole family connect to their food source and get them excited about eating the healthy produce you buy.
Go early or late in the day - some produce may sell out as the day goes on, so you may want to go at the start of the day. On the other hand, sometimes farmers may discount prices towards the end of the day, so that they do not have to transport the produce back to the farm.
Get to know your farmer - ask about their farming practices!
Ask questions - if you haven't tried a certain type of produce, ask the farmer how they like to prepare it.
Be kind if you try to negotiate - everyone wants to get a good deal, but it is important to remember that this is the farmers livelihood. If you are going to ask for a deal at the end of the day, or to buy in bulk, do so respectfully!
Local Farmers' Markets
Aurora - Downtown Farmers' Market
65 Water Street, Aurora, IL 60505 (across from City Hall and the Water Street Mall)June 8th - Oct 12thSaturdays 8 a.m.- noon
Aurora Farmers' Market
2131 West Galena Boulevard,, Aurora, IL 60505 (in the West Aurora Walmart parking lot)July 10th - Sept 11thWednesdays 12 p.m. - 4 p.m.
Batavia Farmers' Market
On North River Street (between Wilson & State)June 1st - October 27thSaturdays 8 a.m. - noon
Downtown Downers Grove Market
5001 Main St, Downers Grove, IL 60515 (in the south parking lot of the Burlington Avenue train station. Location subject to change during 2019 Rotary Club Grove Fest)May 11th - October 19thSaturday 7 a.m. - 12:30 p.m.
Lisle French Market
Garfield Parking Lot (next to Prairie Walk Pond. Parking available in the Garfield Parking Lot, Main Street, and the Commuter Parking Lots off Burlington Avenue.)May 4th - September 14thSaturdays 8 a.m. - 1 p.m.
Naperville - 5th Ave Station Farmers Market
200 E. 5th Avenue, Naperville, IL 60563June 1st - October 26thSaturdays 7 a.m. - noon
Naperville - 95th Street Farmers' Market
3015 Cedar Glade Drive, Naperville, IL 60564 (in the parking lot of the library. Extra parking can be found at Neuqua Valley High School Freshman Center, located southeast of the library.)June 6th - Sept 26th (closed on July 4th)Thursdays 3 p.m. - 7 p.m.
St. John's Farmers Market
750 Aurora Avenue, Naperville, Illinois 60540May 29th - September 18th (closed week of July 4th)Wednesday 3 p.m. - 7 p.m.
Wheaton French Market
Main Street & Liberty Drive in Wheaton, ILApril 13th - Nov 9thSaturdays 8 a.m. - 2 p.m.
Winfield Farmers' Market
SW corner of Country Farm & Geneva Roads (in the Prairie Trail Center parking lot)June 5th - October 30thWednesday 7 a.m. to 1 p.m.
Geneva Green Market
The Geneva Green Market runs a Winter Farmers' Market.327 Hamilton Street, Geneva, IL.November 2nd - AprilSaturdays
Going to the Farmers' Market is a fun tradition for our family! I love supporting local farmers, getting fresh nutritious produce, and feeling more connected to our food source.
Dr. Jamie
---