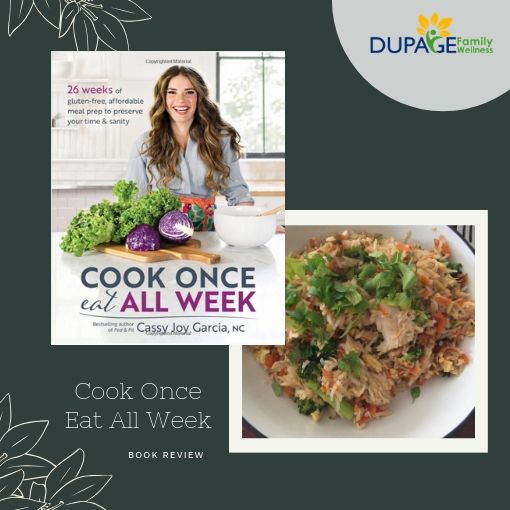 Eating healthy, whole foods is important to me. But I'm also a busy mom of two little ones who runs her own business. When I come across a resource that makes meals both easy and delicious, I get very excited!
Recently I started cooking from "Cook Once Eat All Week" by Cassy Joy Garcia. I am two weeks into the meal plans and am very impressed. The book is based off of the concept that preparing components of a meal in advance and assembling the dish the day of will give you a fresh, quick meal.
What I Love About This Book
There are 26 weeks of meal plans. That's 6 months of delicious meals!
All the recipes are gluten free and real food based (modifications are available for those on dairy-free, grain-free, or low-carb diets).
Each week has a full shopping lists.
Following the instructions on the prep day gets you ready to quickly prepare hot meals throughout the week.
The Books Nutritional Approach
Real, nutrient-dense foods are chosen over processed, refined foods.
Nourishing fats replace highly processed oils.
Organic produce and quality proteins are preferred when possible.
Balanced meals include protein, vegetables, and healthy starches.
Eat what works best for your body!
Recipes That We Have Enjoyed
Enchilada-Stuffed Zucchini Boats
Chicken and Broccoli Cauliflower Rice
Spinach Artichoke Meatza
You can check out her website for many recipes if are interested in trying some out before investing in the book. I hope you are enjoying a summer full of healthy food, activities, connections, as well as meaningful times of solitude!
Dr. Jamie
---