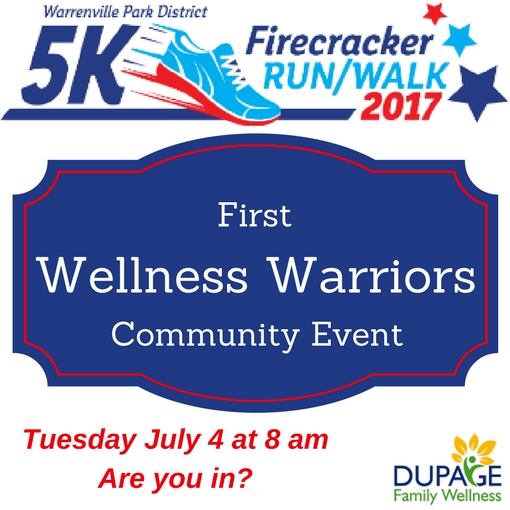 The Warrenville Firecracker 5k is coming up in just over a month! It is on the morning of July 4th at 8:00 am! I am going to have a booth at this event (after all, it is right across the street from my office!).
One of my goals is to build a community of people who are STRIVING to THRIVE!! People in this community are intentional about eating good nutrient dense foods, moving their bodies, sleeping well, and decreasing their stress. Additionally, one of the MOST IMPORTANT factors in THRIVING is playing an active role and having good relationships in their local community!! This was discussed in detail back in our article called "Want to Live to 100?"

I am building my TRIBE of WELLNESS WARRIORS and I think that the Warrenville Firecracker 5k would be a great first community building event! It incorporates movement (I don't care if you walk, run, or come out to stand and cheer with me at my booth!), supports the community, and helps all of us build better in- person real relationships with other like-minded people!
What is a Wellness Warrior?