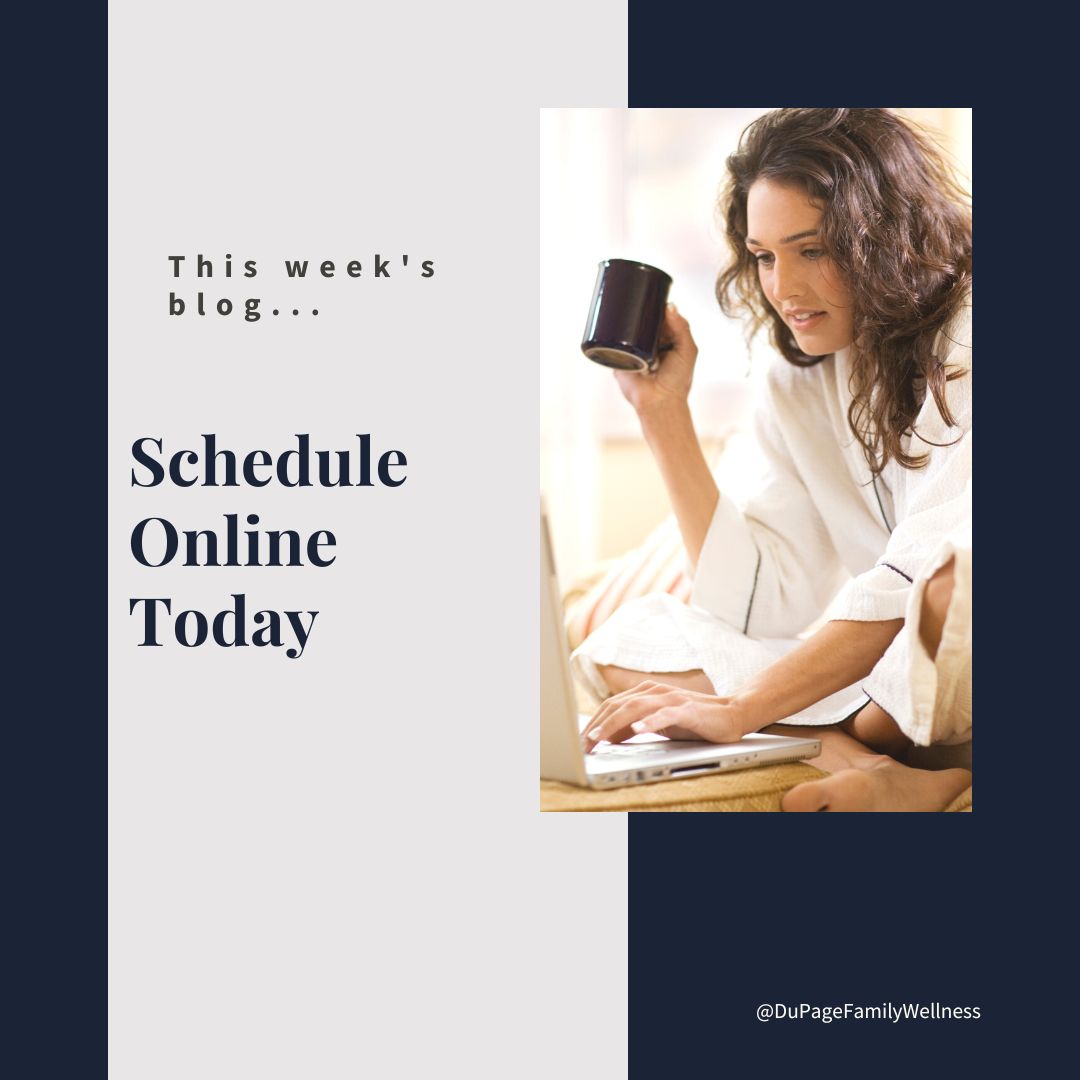 While we love the personal touch of a phone call, we realize that your convenience is what really matters. It is with this in mind that we originally set up the online scheduling system Acuity.
This online program makes scheduling an appointment easier than ever. No more phone tag, waiting for a callback, or wondering if it's too late to text. Acuity is there for you 24 hours a day, 7 days a week.
Scheduling an appointment online only takes a minute; just follow the steps described below.
How Does Online Scheduling Work?
Simply click on the link, select the type of appointment you would like, and choose an appointment time that works well for you.
https://acuityschedulingforDuPageFamilyWellness.as.me/
What Type of Appointment do I Need?
All new patients will need to schedule an hour appointment so that we can do a full medical history and exam.
Existing patients will choose between 15 and 30-minute appointments. While it is difficult to set exact guidelines, the following examples may help you determine what best fits your needs. (Typically a unit of ART is one area, though more involved cases may require more.)
Chiropractic adjustment-only visits (15 minutes)
If you have only one body part for ART (i.e. just ankle or just elbow - 15 minutes)
Active Release Techniques plus an adjustment (typically 30 minutes)
Reactivation for those who have not been seen for 3+ months (30 minutes)
Do I Need to Make an Account?
While you are welcome to make an appointment as a guest, creating an account will allow you to log in and see all your scheduled appointments.
Will I get Appointment Reminders?
Acuity sends appointment reminders through email. You will not get a text, so make sure to provide your email if you would like reminders.
We are excited to walk with you on your journey to health. If you've been meaning to set up an appointment, go ahead and do it online now!
Dr. Jamie
---