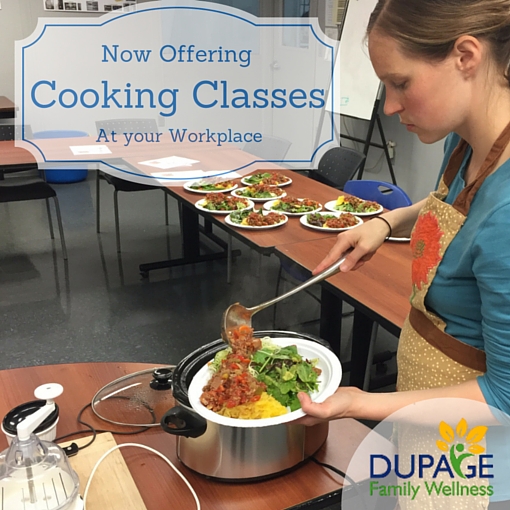 If you have been paying attention, you know that we at DuPage Family Wellness are passionate about nutrition and helping people to eat REAL FOOD!! I am excited to announce that we are offering a NEW SERVICE to help spread this message to more people in the community!!
Healthy cooking classes for businesses and corporations are now available! These classes are fun and a great fit into a corporate wellness program.
How does it work? We come to your workplace and bring a healthy lunch. While you and your coworkers eat this nutritious and delicious meal, we demonstrate various components of how the lunch was prepared. You will learn WHY we are eating the food we are, and the benefits of incorporating our REAL FOOD principles!
Classes can be as short as 30 minutes over lunch, or longer depending on your workplace needs. Topics and menus can be customized. It can be a single event or a series of classes. Our most recent class consisted of two 30 minute sessions with 12 employees at each.
Don't have a kitchen? Don't worry, we can improvise! As long as there are tables and chairs, we can make it work!
Eating real food not only has health benefits, but it has been shown to improve mood! What company wouldn't want happier and healthier employees! If your company is looking for a new fun activity for it's employees, let us know!