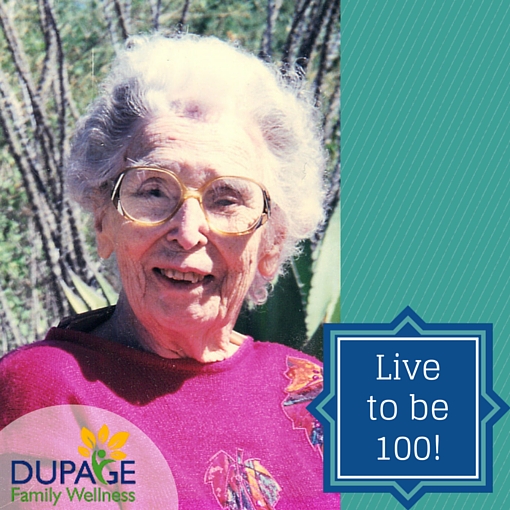 Recently I was fascinated by a podcast featuring breakthrough work in the area of human genomics to discover the common factors of populations that live the longest.
The term "Blue Zone" has been coined for the five regions that have a significantly greater concentration of centenarians, that is, people that live to be at least one hundred. There are five areas that have been named Blue Zones, which include: Ikaria, Greece; Okinawa, Japan; Ogliastra Region, Sardinia; Loma Linda, CA; and Nicoya Peninsula, Costa Rica.
Scientists have learned that both lifestyle and diet have the ability to turn on and off genes that contribute to longevity and robust health.
Common Lifestyle Factors
People move their bodies - a lot. They walk, and garden, and have an active life.

Healthy lifestyle is important to the entire community ! They have close social circles that reinforce healthy behaviors.

Time to de-stress daily is part of the culture. There are different traditions in each area including siesta (afternoon nap), a happy hour sort of tradition, or a daily time for prayer and meditation.

The centenarians are an integral part of their communities, often religious communities. These people were not alone but had neighbors, friends, and family frequently dropping to spending time with them.

The centenarians are committed to their families.
Common Nutrition and Diet Factors
Stop eating when your stomach feels 80% full to avoid weight gain.
Eat the smallest meal of the day as your last meal in the evening.
Eat mainly plants and beans. Eat meat rarely and in portions of 3-4 ounces. In the Blue Zones, they only eat meat five times per month, on average.
Limit alcohol consumption to 1-2 glasses per day.
Eat mostly locally sourced food, including a lot of herbs.
What are the most common foods in each area?
Since the foods are locally sourced, they differ for each region.
Ikaria, Greece, the foods known for longevity include: feta cheese, lemons, and herbs like sage and marjoram that they use daily in tea.
The healthy staples in Okinawa, Japan are bitter melons, tofu, garlic, brown rice, green tea, and shitake mushrooms.
In Sardinia, Italy they eat goats milk and sheep cheese, sourdough bread and barley, along with fennel, fava beans, chickpeas, tomatoes, almonds, milk thistle tea, and wine from the locally grown Grenache grapes.
It may be surprising that one of the Blue Zones was actually in the United States. What are they doing right in Loma Linda California? Most members of this community are Seventh-day Adventists, so they avoid smoking, drinking, TV, movies, and other forms of media. Their diet follows biblical principles, thus focusing on whole grains, nuts, and vegetables with a small amount of meat and fish. It also includes avocados, salmon, beans, oatmeal, and eggs. They drink only water.
In the Nicoya Penninsula of Costa Rica, one of the mottos is "Put an egg on it". In addition, they eat beans, corn, squash, papayas, yams, bananas, and peach palms.
Learning from My Great Grandmother
The photo is my great-grandmother, who lived from 1900 - 1999, almost 100 years with a good quality of life, and without chronic illness. I wish I could talk to her now. From what I can gather, she shared many characteristics of those in the "Blue Zones".
She was always active, walking, swimming, and riding a "tri-cycle" even into her 90's.
Along with my great grandfather, they grew a big garden, cooked from it, and shared it with the family.
She was part of social groups that kept active playing games.
She was active in her communities, and volunteered frequently.
Family was important to her. She came to stay with us for a few weeks every summer, and when she was not here she always kept in touch.
Not only is she my longest living relative, she is also a good role model following these lifestyle patterns. In addition, she always had a positive outlook on life and was a joy to be around.
What Can We Take Away from the Blue Zones?
We can learn the following from the Blue Zones:
There is no one size fits all diet that is best for everyone. Rather, we should eat the real whole foods that are found locally.
We should listen to the signals of our body.
We must realize that our lifestyle affects our health and pay particular attention reducing our stress and maintaining our community involvement.
Joelle Kurczodyna, NTP
---