It is finally starting to feel like fall and with it comes some of my favorite foods! This is the only time of the year when beautiful orange winter squashes and sweet potatoes are in abundance. We got our first round of sweet potatoes in our crop share basket this week so I wanted to try doing something different with them. I love how versatile sweet potatoes. Some of our favorite ways to eat them are mashed, as fries, cubed, hash browned, and baked. However, I wanted to try something that would be more filling as an entree instead of just a side dish. That's how these fiesta stuff sweet potatoes were born. Maybe you can tell from the Italian Stuffed Pepper recipe, but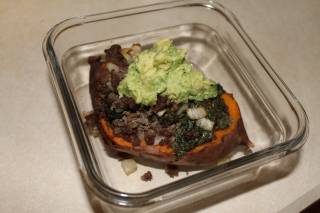 a common meal at our house are stuffing whatever vegetable is in season with whatever meat you have and it is always surprisingly delicious. Besides sweet potatoes and peppers, zucchini, acorn squash, and butternut squash are some of our favorite things to eat this way.

On to the recipe. This is very easy to prep ahead and reheat and depending on the type of meat and spices you use can be adapted to your family's style.
Fiesta Stuffed Sweet Potatoes
Yield: 8 - 1/2 sweet potato portions
Serves: 4-8
Ingredients:
4 large sweet potatoes
1 lb ground beef
1 diced onion
Spinach or other green
Seasonings to taste (for a Mexican flair, I used chili powder, garlic, and little cumin)
Salt and Pepper to taste
Avocado and cilantro (as a topping)
What to do:
Bake sweet potatoes at 400 for 1 hr. While potatoes are cooking, brown ground beef and add onion once beef is almost cooked through. Add in desired spices and greens until the greens are cooked down and the taste is to your liking. Once the sweet potatoes are done, slice in half length wise and using a fork push the flesh of the sweet potato down as much as you can. Scoop a healthy amount of the beef mixture onto the sweet potato. Return to oven (or reheat later) at 350 for 10 minutes. Top with avocado and cilantro when serving.