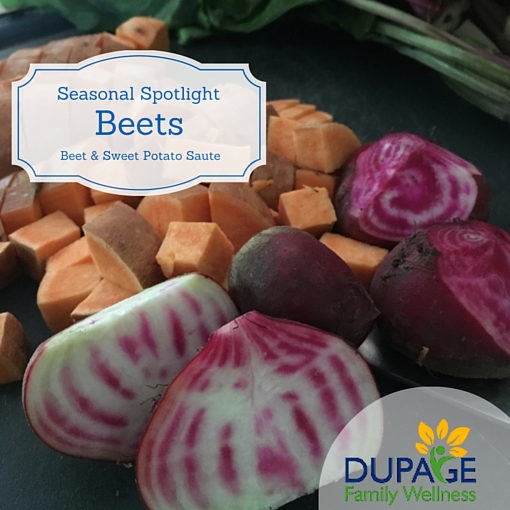 Our family has made a commitment to source our produce from local farms with organic growing methods. We invested in a share from a local Community Supported Agriculture (CSA) program and buy the rest of our produce from local farms at farmers markets. This has given us a chance to try foods that we don't usually buy, and I have loved finding ways to prepare them and learn about them (follow on instagram @kfamilygoessustainable)
Our most recent CSA basket contained two varieties of beets, Chiogga beets and candy-stripe heirloom beets (pictured). People tend to have a love/hate relationship with beets, and I've always fallen more on the hate side, but I wanted to give these freshly grown beets a chance. They didn't disappoint. I paired them with sweet potatoes, bacon, and the greens from the beet leaves (see recipe below) and the flavors were a perfect marriage of sweet and salty.
Besides their unique taste and bold color, beets pack a powerhouse of nutrition.
Beets are jam packed with vitamins and minerals including vitamin C, magnesium, iron, copper, and phosphorus. They also contain carotenoids, lutein, glycine, betaine, and beneficial flavonoids. With all of these nutrients, beets have been known to be beneficial for the heart, prevent certain cancers, stimulate liver and gall bladder function, prevent respiratory problems, prevent cataracts, be an aphrodisiac, and increase energy levels.
Beets are worth trying, especially if you find them freshly picked from your local farmer. Note: Beets are also be used as a dye, so they could turn your hands or counters red.
Beet and Sweet Potato Sauté
Ingredients
3-4 small to medium beets or 2 larger ones, peeled and cubed with greens
2 small to medium or 1 large sweet potato, cubed
4 slices bacon
Directions
Cook bacon on stove top in large sauté pan (I use my cast iron skillet). Set bacon aside.
Use the bacon fat to sauté the beets and sweet potatoes. Cook until beets and sweet potatoes are cooked through.
Add beet greens and chopped bacon to your beet/sweet potato mixture. Cook until everything is warm and greens are cooked down.
Remove from heat and enjoy!
Perfect as a side dish. Try cooking an egg on top for a delicious breakfast!
What are your favorite recipes using beets? Please share on our facebook page.
Joelle Kurczodyna, NTP
@kfamilygoessustainable on Instagram
---