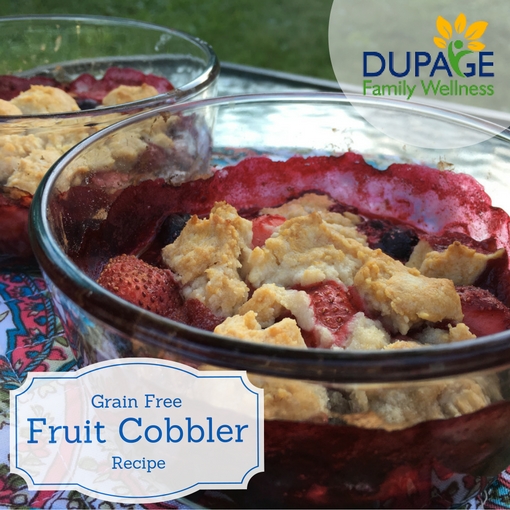 This delicious fruit cobbler has been my go to dessert this summer. It is gluten free, grain free, nut free, and delicious! I love its versatility and have made it with berries, peaches, and apples so far. I also love that it contains only a small amount of honey and is mainly sweetened by the roasted fruit.
This cobbler contains my new favorite grain free baking flour – Otto's Cassava Flour! I heard a buzz about Otto's, but it seemed expensive. What does a foodie on a budget do? Ask for it for your birthday to try it out! I was not disappointed!
What is Cassava Flour?
Cassava flour comes from the peeled and baked yuca plant root. The fiber and starch properties of this plant make cassava flour act similar to whole wheat flour in recipes.
Why Use Cassava Flour?
I prefer Cassava flour over whole wheat flour because it contains the additional fiber and nutrients from the yuca plant that are not contained in whole wheat flour. Whole wheat flour is mostly starch, and lacks nutrient density.
Today, most standard wheat flours have been treated and processed in undesirable ways making them often unrecognizable by the body and difficult to digest. Otto's Cassava Flour is made from a clean, unadulterated source of yuca plants, making it more healthful and easier for the body to digest.
Cassava flour is popular because it can be substituted 1:1 for the regular flour in recipes. I've also made chocolate chip cookies and tortillas that you would never know were grain free and gluten free. Almond and coconut flour have different properties, and cannot be subbed 1:1 in traditional recipes.
Although I highly recommend cassava flour for the occasional grain free, sweet treat, it is still something to avoid as an every day part of your diet, as discussed in the previous article on moderation.
Otto's Cassava Flour is the only brand that I have researched and tried, therefore I recommend it. There are other cassava flours out there that may also work well but, but I do not have experience with them.
Grain Free Fruit Cobbler Recipe
Cobbler Filling Ingredients:
Fruit of choice (6-8 peaches or apples, 3-4 cups of berries)
2 tsp of Otto's Cassava Flour
1 tsp lemon juice
½ tsp Cinnamon (optional)
2 tbsp honey (optional – I usually omit and just enjoy the sweetness from the fruit)
Cobbler Topping Ingredients:
1 cup Otto's Cassava Flour
½ tsp baking soda
½ tsp salt
1/3 cup cold butter (coconut oil or lard work also)
1/3 cup water
2 tbsp honey
½ tsp cinnamon (optional)
Directions:
Preheat oven to 425 degrees
Make the filling: Mix fruit, 2 tsp of cassava flour, lemon juice and cinnamon and honey if desired in a large bowl until coated. Pour into an 8x8 glass baking dish and place in preheated oven for 10 minutes.
While fruit filling is cooking make the topping. Mix 1 cup of cassava flour, baking soda, salt and ½ tsp of cinnamon. Using a fork, cut in the butter. Add water and 2 tbsp of honey. Mix until a dough comes together.
Putting on the filling: Drop small spoonfuls of cobbler topping over the pan evenly. Bake for an additional 15-20 minutes until topping begins to turn golden.
Enjoy!
---