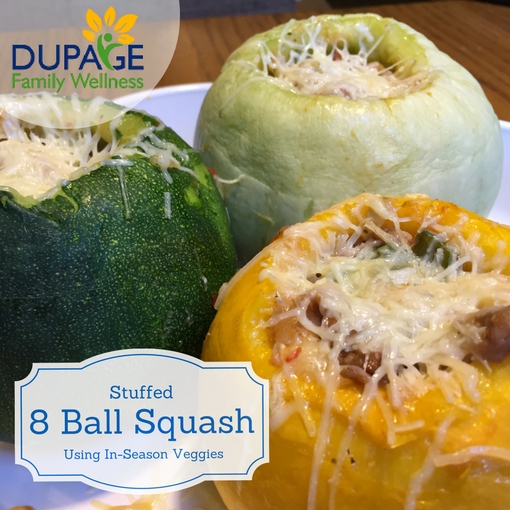 Earlier this week, my mom shared a great new farmers market find with me: 8 ball squash! I had never seen them before. Stuffing hollowed vegetables with meat and other veggies is one of my favorite meals. Let's try it with 8 Ball squash!
Ingredients:
3 - 8 ball squashes - (if you can't find 8 ball squash, this recipe would work great with zucchini or yellow squash- just cut in half and hollow like a boat. No need to do the boiling for 10 minutes step if you are using a long squash, but start baking it in the oven while the filling is in the pan)
1 Onion (chopped)
1 Tomato (chopped)
1 Sweet Bell Pepper (chopped) (Or use hot peppers if you like it spicy)
2/3 pound Italian sausage (or substitute meat of your choice). I used a spicy sausage to give it some good flavor
1-2 cloves Garlic (minced)
Salt and Pepper to taste
Cheese of choice- 1/2 cup (optional)
(Optional) Additional veggies (e.g. carrots, sweet potato, celery, mushrooms)
Directions:
Cut off the top of the squash
Place squash (cut side down) in about an inch of boiling water and let cook for 10 minutes
While squash is cooking, brown sausage and saute veggies in a pan
Hollow out squash. Separate seeds, and add flesh to filling mixture.
Add half of cheese to filling mixture (optional)
Spoon filling mixture into hollowed out squash
Top with other half of cheese
Bake in oven at 350 for 10 minutes or until cheese is melted
Green Peppers are the bumper crop of our garden this year. Later in the week, I made the same filling, and stuffed 5 peppers. I added a small zucchini and a small pablano pepper instead of the bell pepper. Great way to use some produce that is plentiful or produce that you need to use.
Keep in mind that this recipe is totally flexible! It isn't like baking where ratios are important. If there is a meat, veggie, or type of cheese that you like- use it! I bet it will turn out great! Let us know if you try it- and if you find an awesome combo let us know on Facebook!