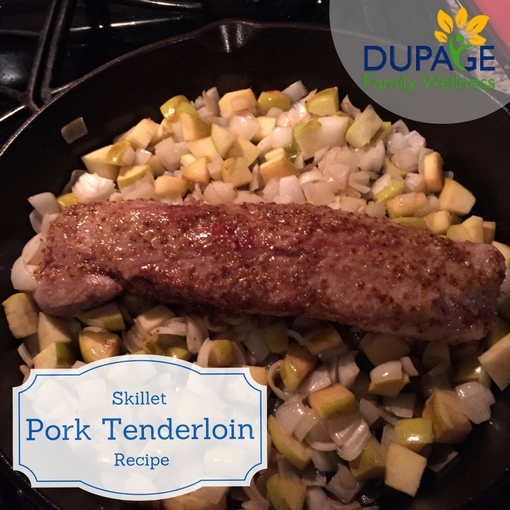 I've got an easy, yet delicious"real food" recipe for you today!
When I made my first pork tenderloin, I didn't realize there was a difference between a pork loin, and a pork tenderloin. I bought the loin and tried to use it in a tenderloin recipe. It is a much thicker cut of meat and the cook time was off. You could probably use this recipe for a pork loin, you'd just need to increase the cook time!
Ingredients
Pork tenderloin
1 TBSP of coconut oil (or cooking oil of choice)
2-3 Onions chopped
2-3 Apples chopped
1 TBSP Honey (or maple syrup)
1 TBSP Dijon Mustard (I like stone ground)
Salt and Pepper to taste
Directions
Preheat oven to 425
Heat up Iron Skillet over stove top
Melt cooking oil in hot skillet
Sear each side of tenderloin for 3 minutes
Remove tenderloin and cook apples and onions in pan for 1-2 minutes to begin to soften
Place tenderloin on top of apples and onions, and move iron skillet to oven
Cook for about 15 minutes (internal temperature should reach 145- I had to cook mine for an extra 2 minutes)
Slice pork and enjoy! I supplemented with some carrots and broccoli that I had already roasted a few days prior using roasted veggie recipe.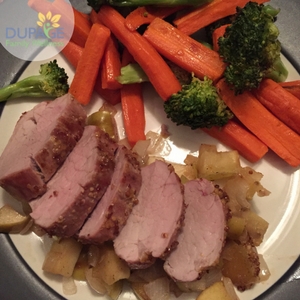 ---