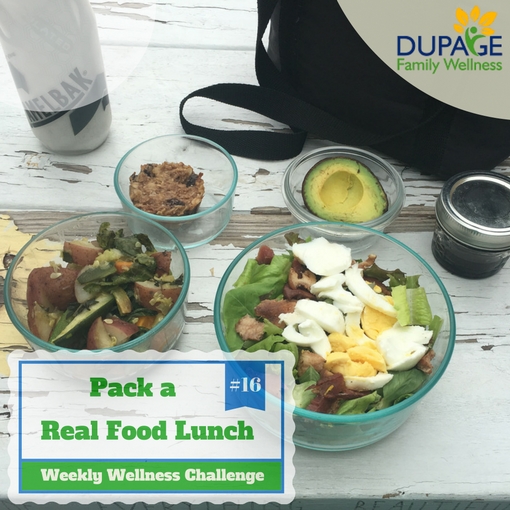 Re-usable water bottle and lunch box that contains salad (with hard boiled egg, bacon, cucumber, tomato, and avocado), container of homemade vinaigrette dressing, hash with potatoes, zucchini, onions and kale, and a homemade chocolate chip muffin
Pack a Lunch that Keeps You Full and Focused All Afternoon
This week I was chatting with a teacher friend who said "It's only 3 weeks into the school year, and I'm already tired of my lunch . Help!".
Focus on nutrient dense, REAL foods!
Fill lunch boxes with quality fats and proteins to maintain energy all afternoon. Resist the temptation to pack typical lunch foods that are refined and processed (i.e. bread, crackers, chips, cookies, pop, juice boxes, candy, etc). These convenient foods might be easy to grab and stick in the lunch box, but the high sugar and carbohydrate levels cause blood sugar to spike after lunch. When it crashes down, it can cause you to lose energy. You will be ready for a nap before the afternoon is over On the other hand, a lunch with fat and protein keeps blood sugar even, making you feel satisfied and engaged all afternoon.
Eat leftover dinner for lunch
Think about lunch when you make a delicious dinner. Make extra, and remind yourself that you'll have a good lunch if you don't eat it all. We put the leftovers into grab and go glass containers when cleaning up the dinner. In the morning, just pop the leftovers into your lunch box.
Nutritious lunch box ideas:
Wrap a nitrate/nitrite free lunch meat (Applegate Farms) around slices of avocado
Breadless sandwiches! Check out these ideas for 15 breadless sandwiches: no bread sandwich ideas
Homemade soup or leftovers in a thermos
Chicken, tuna, or egg salad made with homemade mayo
Salad with homemade oil and vinegar or ranch dressing (easy to make from homemade mayo)
Guacamole with veggies
Hard boiled eggs
Lettuce Wraps
Handful of nuts
Unsweetened dried fruit
Homemade muffins (Freeze well) – These are a few favorites: cornbread muffins and banana muffins
Good quality cheese, preferably from pastured cows
Unsweetened, Plain, Full Fat Yogurt or kefir (try making own yogurt)
Apple or celery w/ nut butter
Unsweetened applesauce - This is easy to make: crockpot applesauce
Beef Jerky (make your own if you have a dehydrator!)
Smoked salmon
Having trouble imagining how to make these ideas into a lunch. Pick several items and pack them together for a lunch that will keep you satisfied until dinner.
Our favorite real food lunch combinations:
Leftover dinner and a piece of fruit
Chicken salad, celery with nut butter, and a few slices of high quality cheese
Two Hard boiled eggs, cornbread muffins smeared with real butter, and a mashed avocado (guacamole) with bell pepper slices
Homemade soup in a thermos with plain yogurt topped with blueberries, nuts, and cinnamon
Lettuce wraps with ham, cheese and avocado slices, handful of nuts with unsweetened dried fruit (easy trail mix), and applesauce
Remember that transitioning to a real food diet may not happen overnight.
If you aren't ready to make your own mayo and ranch dressing, it's OK! Just keep moving toward eating more real foods and less packaged, processed, corporation made "food". Many of the "modern convenience foods" that we buy automatically aren't that difficult to make on your own. The real ingredients that you use at home are much better for you than the ingredients used in the processed foods in the middle aisles of the grocery stores!
A couple of tips to help:
• Set aside a couple hours each week to prep lunch items (i.e. cut veggies, make a big batch of soup or chicken salad, make and freeze muffins, etc) will make it easy when trying to get everyone out the door in the morning!
• If you have kids, encourage them to help choose, make, and pack their own lunch!
Your challenge this week is to try some of these ideas to make yourself a real food lunch. Let us know how it goes on facebook.
Joelle Kurczodyna, NTP