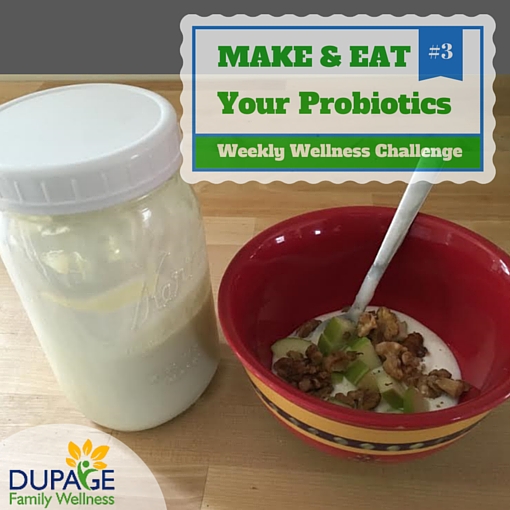 Everyone should consume probiotics to maintain good digestion and gut health. You may think that this means taking a pill or supplement, but my preferred method of ingesting these "good" bacteria is through the food that you eat! In fact, probiotics were part of the regular diet in previous generations.
Probiotics are beneficial bacteria contained in fermented foods. Before refrigerators and modern food storage, fermenting was used to preserve food. During fermentation, natural bacteria feed on the sugars and starches in the food creating lactic acid. Lactic acid not only preserves the food, it also makes it more digestible and preserves and increases beneficial enzymes, nutrients, and beneficial bacteria (probiotics). As convenience and processed foods have overtaken our pantries, we have stopped eating these healthful and traditional fermented foods, and our probiotic consumption has declined, as well.
Why Make and Eat Your Own Fermented Foods
Increase probiotics. Probiotics provide your digestive system with bacteria that has been known to have tremendous benefits including improving your immune system, helping digestion, balancing hormones, and even slowing or eliminating disease.
Makes food more digestible and easily absorbed. The process of fermentation begins to breakdown food naturally, making it easier to digest. The fermented food also provides the bacteria and digestive enzymes to help your body absorb all the good nutrients packed other real food that you eat.
Save money. Finding a good brand of fermented foods that does not contain added ingredients is often difficult, and usually these products are expensive. However, it is budget friendly to make your own fermented foods, using a few simple ingredients. You would no longer purchase probiotic supplements, and the health benefits of probiotics could save you future medical expenses.
What fermented food to make?
It is easy to ferment most fruits and vegetables by cutting them up, mixing them with salt and spices, pounding them to release juices, and then storing them in an air tight container. You can find hundreds of recipes for doing this by searching "lactofermented" with the name of the food you would like to ferment.
Two super simple fermented foods that are a part of our regular diet are homemade yogurt and sauerkraut.
Homemade Crockpot Yogurt
Ingredients:
½ gallon of whole fat organic milk
½ cup of PLAIN yogurt (only ingredients are milk and cultures) Read the ingredients, and you will see the cultures listed.
Note: Typical flavored yogurt, including vanilla yogurt, does not have these cultures. Learn more about yogurt here.
Directions:
Pour ½ gallon of milk into crockpot and cook on LOW.
After 2.5 hours turn crockpot off and let sit for 3 hours without removing the lid.
Once the additional 3 hours has passed, quickly remove lid and stir in ½ cup of plain yogurt into the warm milk.
Set lid back on and wrap crockpot in two large bath towels.
Let sit on counter for around 12 hours, or overnight.
Store yogurt in glass quart size mason jars. The yogurt will continue to thicken to desired texture after being refrigerated for 4-6 hours.
Add your favorite fresh fruits and nuts. Enjoy!
Don't forget to reserve 1/2 cup to start your next batch.
Traditional Sauerkraut
Ingredients:
1 head of cabbage
2 tbsp sea salt
Directions:
Core and shred cabbage.
In a large bowl mix cabbage with salt.
Pound with meat hammer or use your hands to massage juices from cabbage. This can take 10-20 minutes, be patient!
Place cabbage in juices into a wide mouth mason jar making sure that the juices cover the cabbage and that you leave at least one inch of head space at the top of the jar.
Cover tightly and store counter for three days then move to refrigerator.
What other fermented foods do you eat? Kimchi? Pickle your own cucumbers? Beets? Talk to us about it on our facebook page, and good luck with this week's challenge.