Weekly Wellness Challenge #2 - Keep reading to roast a whole chicken, make your own chicken broth, and use it in a creamy chicken and vegetable soup recipe!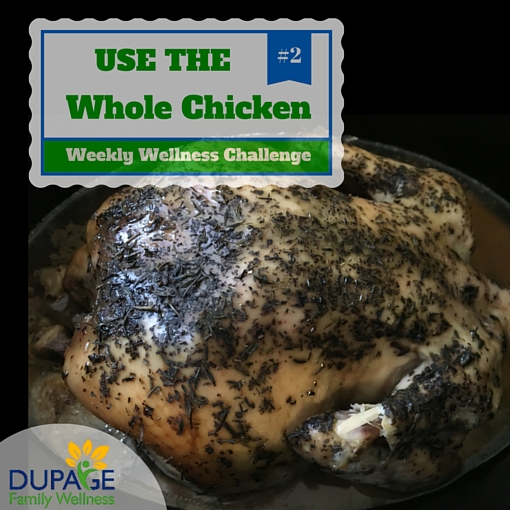 We roast a whole chicken about every other week. It's easy, nourishing, and can be stretched into several meals in our weekly meal plan.
Typically, we cook the chicken in the crock pot, and eat the leg and thigh for dinner that night. Then, I remove the rest of the chicken from the bones to use throughout the week (including the soup recipe below). The bones and skin are used to make chicken broth. Making broth may sound complicated but don't let it intimidate you; it's simple!
Cook the Whole Chicken:
Pat thawed chicken dry with a paper towel. Remove the bag of giblets that may be inside and refrigerate for use in the broth.
Rub desired seasonings over the outside of the chicken. Lately, I use basil, thyme, salt and pepper.
Place chicken in the crock pot, breast side down, and cook on low for 8 hours or high for 4 hours. Feel free to add extra veggies in with the chicken or just cook it by itself. No need to add water; the chicken comes out very moist.
Make the Broth
Why make your own chicken bone broth:
Homemade bone broth is extremely nutrient rich and healthful. The apple cider vinegar helps to leach the nutrients from the bones into the water. As an added bonus, it tastes better then chicken broth you buy at the store, does not have MSG or other additives, and can be less expensive.
Chicken (Bone) Broth Instructions:
Remove the meat from your chicken carcass and set aside for use in a different recipe.
Put bones and skin in the crock pot along with the contents of bag from inside your chicken (if applicable).
Fill the crock pot about 2/3 full of water, covering the bones.
Pour a splash (1-2 tbsp) of apple cider vinegar into the water.
Turn crockpot on low and let the broth simmer for 12-48 hours (I usually aim for 24 hours).
Strain the broth from the chicken bones.
Creamy Chicken and Vegetable Soup Recipe
Soup Ingredients:
Two heads of Cauliflower
8 Carrots
2 Sweet Potatoes
2 Onions
4 Tbsp Coconut oil melted
4 Tbsp Butter
10 Cups of Chicken Broth
Leftover Shredded Chicken
Salt and Pepper to taste
Soup Directions: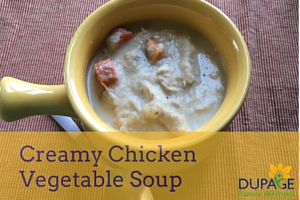 Preheat oven to 400 degrees.
Chop cauliflower into florets and dice one onion. Toss cauliflower and onion on baking sheet with 2 tbsp of coconut oil.
Chop carrots, sweet potato and remaining onion into small pieces. Toss on another baking sheet with 2 tbsp of coconut oil.
Roast both pans of veggies for about 40 min, until veggies are cooked.
Blend cauliflower/onion mixture with 8 cups of broth with a high speed blender, food processor or immersion blender. Pour into stock pot. You may need to do this in batches..
Add last 2 cups of broth, roasted carrots, sweet potatoes, onions, shredded chicken, butter, and salt and pepper to the creamy cauliflower base.
Cook on low to medium heat until heated thoroughly and enjoy. It makes great leftovers and tastes even better on the second or third day.
Follow these directions, and you'll get 6-10 nutritious servings from one chicken.
Let us know how it went, and post your ideas to our facebook page.
Joelle Kurczodyna, NTP