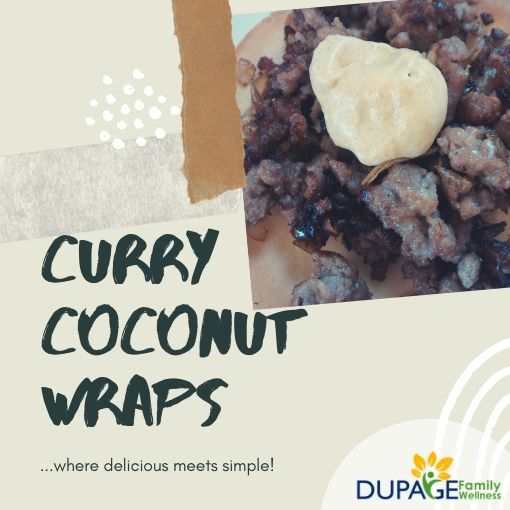 This savory dish is great for a quick meal at home but tasty enough to serve to company!
By adjusting the amount of curry you put in the spread, you can make it either mild or bold. If you are new to curry dishes start with less as you can always add more.
Ingredients
Filling:
1 T coconut oil
1 small onion chopped
1lb ground breakfast sausage (365 from whole foods)
¼ c dates chopped (no sugar added)
Curry Spread:
¼ c mayo made with avocado oil (Chosen Foods)
1-2 t curry powder
Wrap:
Directions
Heat oil in a skillet.
Add onions and cook until nearly caramelized.
Add breakfast sausage and cook through.
Add chopped dates to the meat mixture.
While sausage is cooking, mix the mayo and curry powder together in a small bowl.
Take sausage out of the pan and heat the coconut tortillas in the pan. (Add more oil as needed if doing many tortillas.)
Spread the curry mix on the tortilla and top with sausage.
Serve with a side of veggies.
Enjoy!
P.S. You can buy the coconut wraps online or at Nutrition Network in Windfield, IL.
---