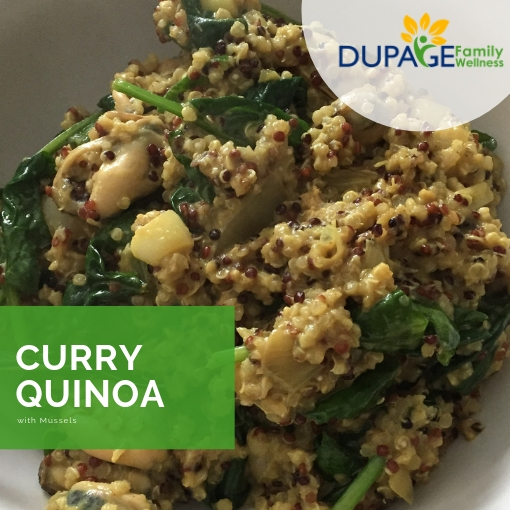 Mussels are a great source of protein that have many health benefits! They are good for brain health, concentration, circulation and mood. They contain both anti-inflammatory and anti-aging properties. They are high in vitamin C, vitamin B-12, iron, and omega 3-fatty acids. Even though they are fairly inexpensive and easy to make, mussels can add a fancy flare to a dish!
Whether you love mussels, or are new to them, I hope you find the following recipe delicious. My husband, Jared, created it for our family and we even gave it to our 1 and 3 year olds! (If you aren't feeling adventurous enough to try mussels, please see the options below. This recipe has a lot of flexibility to accommodate your personal preferences.)
Ingredients
1 cup raw quinoa
2 cup water
1 lb. steamed mussels
1 Tbsp. coconut oil
1 diced onion
1 tsp. minced garlic
1 Tbsp. green curry paste
1 Tbsp. curry powder
Salt & pepper to taste
1 cup coconut milk
1 large handful of fresh spinach
Directions
Cook the quinoa - Combine water and quinoa in a medium saucepan. Bring to a boil. Reduce heat, cover, and simmer for 15-20 minutes (until water is absorbed). Set aside.
Steam the mussels - Steam for 2-3 minutes until most of the mussels have opened. (Please note: do not eat any mussels that do not open.) Cool a little until you can remove the meat. Set aside.
Saute the onion and garlic with coconut oil in a large pan (over medium/high heat) until translucent. Add green curry paste, curry powder, salt, and pepper. Cook for another 2 minutes. Stir in coconut milk.
Combine quinoa and mussel meat (removed from shell), with the onion mixture. Add the spinach. Cook 2-3 minutes (until spinach wilts).
Serve warm. Enjoy! (Serves 2-3)
*Options - you can add or replace the protein (chicken, shrimp, etc.) or vegetables (eggplant, mushrooms, zucchini, etc.) in this recipe.
Let us know if you try a variation of this dish, as the options are really endless.
Dr. Jamie
---