Shrimp Cauliflower Crust Pizza
As you probably know, my family doesn't eat much bread. While I do believe that you can make bread or pizza crust in a nutrient dense way, this isn't how most people (manufacturing companies, restaurants, grocers, etc.) are doing it. They tend to add a lot of ingredients that simply aren't ideal to eat regularly (if you haven't done it, try reading the ingredient label on a store bought loaf of bread or pizza crust). It takes some work to do the right way yourself.
Several times a month, we make a cauliflower crust pizza. It is delicious, and doesn't lead to any of the digestive symptoms or fatigue that we've both started to notice after eating traditional pizza. We have made pizzas with all sorts of different toppings. Today's recipe is a traditional red sauce and has shrimp on top. Feel free to be creative with your toppings!
Cauliflower Crust
1 Head of Cauliflower
1 egg
1 tsp salt
1/2 tsp pepper
1 tsp Oregano
1 tsp garlic powder
1 tsp onion powder
Directions:
Start heating 2-3 inches of water in a large pot until it boils
Preheat oven to 400 degrees
While the water is heating, chop the cauliflower into florets
Rice the cauliflower with grater blade of food processor (or with a cheese grater)
Add riced cauliflower to boiling water for 4-5 minutes
Strain riced cauliflower into a clean dish towel
Squeeze excess water out of cauliflower. Use a big spoon so you don't burn your hands. (This step is key to not having a soggy pizza)
Add egg and spices to cauliflower and mix well
Spread cauliflower onto parchment paper or silicone baking sheet lined pan to form crust
Bake at 400 for 35 minutes (depending on thickness of crust)
Add toppings and bake for an additional 5-7 minutes
Sauce for Pizza
Ingredients:
2 Tablespoons of olive oil
1 14 oz can of diced tomatoes or 3-4 fresh tomatoes diced
1 medium onion, diced
1 teaspoon garlic, minced
1 teaspoon of dried basil (or chopped fresh basil would also be delicious if you have it)
1 teaspoon of oregano
half teaspoon rosemary
half teaspoon thyme
Salt and Pepper to taste
1 small can of tomato paste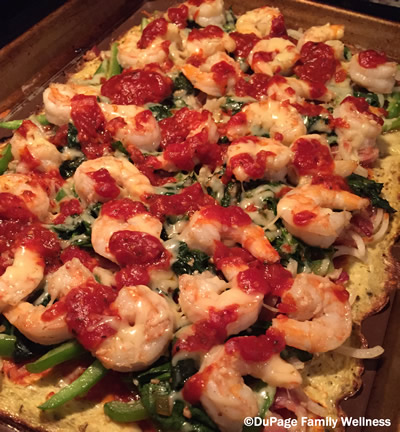 Directions
Heat oil over medium heat
Add onions and let cook for a few minutes until translucent
Add other ingredients and let simmer. If you use fresh tomatoes let simmer for at least 30 minutes so tomatoes cook down.
Toppings*
1-2 Onions Chopped
1 Red Pepper Chopped
1 Green Pepper Chopped
1 lb of shrimp peeled
1/2 cup of shredded cheese if desired
*Substitute alternate meat and vegetables as you like
Before topping, saute veggies in oil. Add shrimp for last few minutes.
Top pizza with sauce, sauteed toppings, and cheese if desired
Enjoy!
Dr. Jamie