There are fall vegetables are at the farmer's market now. Don't be afraid to try something new. I'll share 3 that I've tried this week.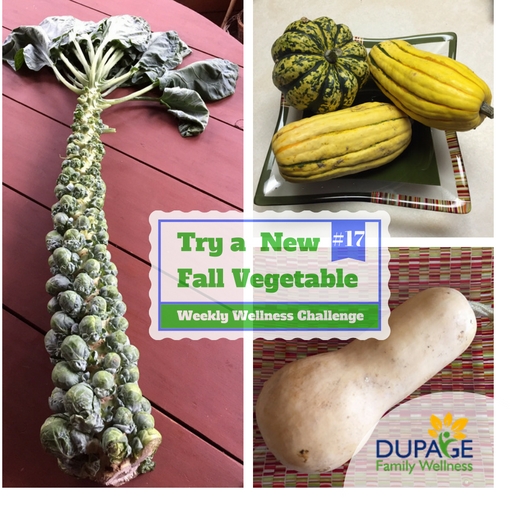 Brussels Sprouts
A "tree" of brussels sprouts is the size of a baseball bat. It's a fun farmer's market find. Just cut the brussels sprouts off of the stem, cut them in half and roast. If you need more guidance on how to make them taste good. check out this post from a few months ago called Making Vegetables that Taste Good.
Butternut Squash
There are a few different ways I like to use butternut squash. If you haven't prepared it before, it might be intimidating. This You Tube video shows 4 ways to get started with a butternut squash, depending on how you are going to use the squash and how much time you have. You can use any of the methods in the video to prepare your squash for the following recipes.
1) Roasted Squash: If I want cubes of roasted butternut squash I peel and cube it before roasting (see the 3rd method in video for cutting demo). It is a delicious side on it's own or a tasty addition to a salad!
2) Mashed Butternut Squash- Mash the squash after it has been baked to soften it. I add ingredients like butter ( a few tablespoons), garlic, salt and pepper. If I'm feeling crazy, I add a little honey and /or cooked bacon! If you want a specific recipe with more details here is a good mashed squash recipe.
3) Roasted vegetable soup: Roast the squash as described above, cover with broth, and blend with immersion blender. The possibilities for seasonings and additions are endless. I typically use what I have on hand, and adding additional veggies and whatever spices I have handy. This week it was roasted carrots, red peppers, onion, and garlic in my soup. I seasoned it with cumin, paprika, chili powder, salt and pepper. If you want more guidance than this for soup making, here is one that I like.
Butternut Squash - Pear Soup
Ingredients:
1 Butternut Squash - roasted to soften it, and cut into small pieces.
3 ripe Bartlett pears - cored & chopped (other recipes peel, but I don't bother)
1 can coconut milk
4-5 cups chicken broth
1 onion - chopped
2 cloves garlic
1 t salt
2 t grated ginger
1 T curry powder
3 T Butter
Instructions
Prepare squash into 1 inch chunks.
Melt butter and add onion, garlic, curry powder and ginger in a large saucepan Stir about 5 minutes until onions are soft, but not brown.
Add squash, pears, stock and salt. Cook over medium heat about 30 minutes.
Using immersion blender, blend mixture until smooth.
Stir in coconut milk.
Serve and Enjoy!
Delicata Squash
Delicious! My new favorite because it it so easy to prepare, and has a great sweet taste. The half circles with scalloped edges add a fun shape to your dinner plate Follow the roasted vegetable directions and I promise you won't be disappointed!
Other delicata squash benefits:
Easy to cut when raw - no struggle with tough skin.
Eat the skin too - no need to peel.
These are a few simple fall recipes to inspire you to get cooking! Let us know if you try any of these recipes and how it turns out! If you are at the farmer's market, and find a vegetable that you don't know what to do with, post it on our facebook page! We'd love to help!
- Dr. Jamie Thomure
---