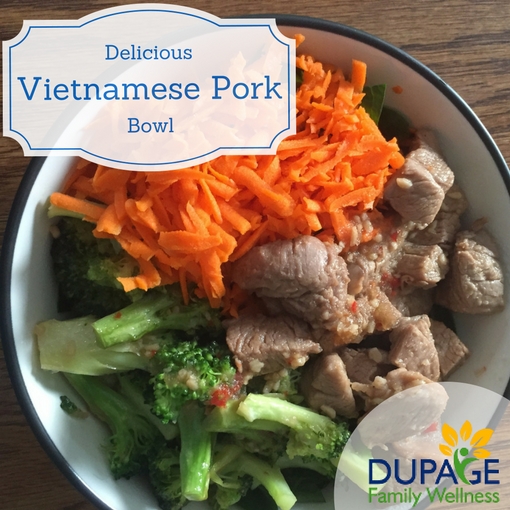 Jared was at it in the kitchen again this week! He came up with this delicious dinner, and it was so good that we decided to share it with you! Enjoy!
Ingredients
1 pork loin cut into 1 inch cubes
teaspoon minced garlic
2 TBSP rice vinegar (or Apple Cider Vinegar)
1 medium onion minced
2 TBSP fish sauce
2 TBSP of local honey
1 jalapeno diced (or pepper of your choice)
1 tablespoon coconut oil
2 cups broccoli cut into peices
2-3 carrots shredded
2-3 cups fresh spinach- chopped
Salt and pepper to taste
Directions
Make Marinade: Mix together garlic, vinegar, onion, fish sauce, honey, and jalapeno
Add pork to marinade and let sit for up to 24 hours (you can cook right away if you don't have time to wait)
Heat oil in pan at medium high temperature
Add pork to pan and cook for a few minutes browning on each side
Remove pork and add broccoli to pan,
Once broccoli is mostly cooked, return pork to pan along with any remaining marinade for sauce
Once sauce is bubbling, it's done. Measure the temperature if you are worried. Pork should be fully cooked at 145 degrees. Be sure that the sauce comes to a boil since it was exposed to the raw meat.
Serve pork and broccoli over raw spinich with raw carrots. The hot meat and veggies will soften the spinach and the sauce will flavor the whole dish in an awesome way!
Enjoy!
Dr Jared Thomure