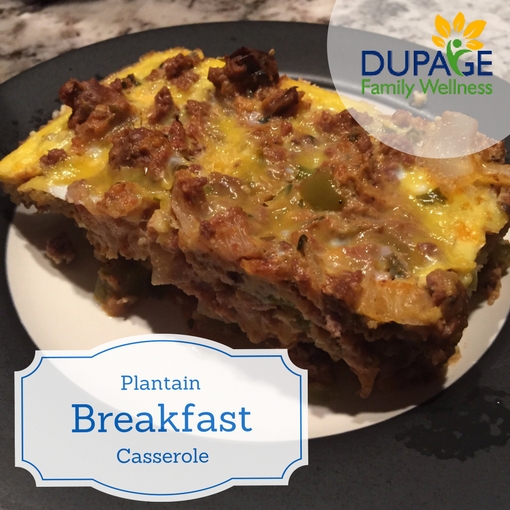 Mornings can be a busy part of the day. Getting a toddler fed, packed and ready to go often before 6:30 am can seem daunting. Making healthy egg casseroles has become a weekly ritual for us. One casserole made on Sunday can easily feed the 3 of us for 4 breakfasts. We try to change up the ingredients that we use so we don't get bored. Some others that I have posted have been a traditional casserole and this mexican breakfast casserole. This week (and probably for the last 3-4 weeks), we have made this sweet plantain egg casserole! Clearly it is one of our favorites! All of the egg casseroles are gluten free, grain free, and dairy free! I know most traditional breakfast casseroles contain bread, but you will see that they are delicious without it! I hope you enjoy the recipe.
Ingredients
2-3 tablespoons coconut oil (to saute and to coat baking dish)
3-4 plantains ripe with black spots, peeled and diced (we have found that slicing them in the food processor works quite well)
3 -5 garlic cloves, minced
1 onion, diced
1 Green pepper diced (or whatever color you like)
1 Jalapeno diced
1/2 cup minced fresh cilantro
2 lbs ground beef or ground sausage
2 teaspoons powdered adobo seasoning
2 tablespoons oregano
1 teaspoon ground cumin
1 teaspoon garlic powder
1 teaspoon paprika
2 tablespoons vinegar (we use apple cider)
Salt (to taste)
Pepper (to taste)
1/3 cup pimento-stuffed green olives, cut in half
1/2 cup raisins
1/2 cup tomato sauce
1/4 cup coconut milk
8-10 eggs, whisked
Directions
Heat a large deep skillet and add coconut oil, enough to generously cover the bottom of your pan. Saute the plantains until soft. Remove from pan and set aside.
Add more coconut oil (if needed) to the same skillet add the ground meat of choice, garlic, onions, peppers, cilantro. Cook over medium heat until meat is browned.
Once meat is browned, return plantains to pan.
Add adobo, oregano, cumin, vinegar, olives, raisins, and tomato sauce. Season with black pepper and salt to taste. Simmer 20 minutes.
Preheat oven to 350 degrees.
Grease a 9 by 13 pan with coconut oil and add the meat and plantain mixture.
Mix the eggs with the coconut milk. Pour the egg evenly over the dish, let it sit for a few minutes allow the egg to soak inches.
Bake in the oven at 350 degrees for 30 minutes. Eggs should be fully cooked when done.
Let rest 15-20 minutes before slicing.
- Dr. Jared and Jamie Thomure