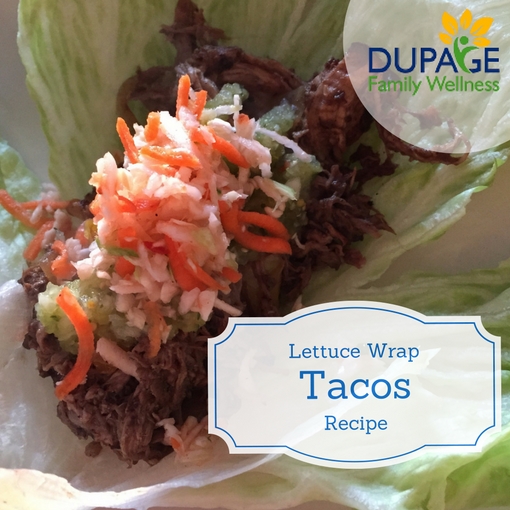 We have been using lettuce instead of tortillas recently for taco night or fajita night! In the grand scheme of the ingredients, the tortilla is more of a "filler food." I like to think of foods in terms of their "nutrient density" and the tortilla comes in pretty low on the nutrient density scale. It has a low amount of nutrients and a relatively high amount of calories. So what do we do?
Replace tortillas with lettuce as the vessel to get all the yummy to your mouth! Its way better for you, and you won't miss out on any of the flavor!!
Ingredients:
1 tablespoon of coconut oil
1 lb. Protein of your choice, I used pulled smoked pork that I made (you could also you shredded chicken, shredded beef, ground beef, shrimp, etc. You get the idea!)
2 onions, chopped into strips
1 pepper (green, yellow, red, orange, your choice), chopped into strips
2 cloves of garlic, minced
1 head of iceberg lettuce (or any other lettuce you can separate and use as a vessel!)
Mexican Seasoning:
1 ½ teaspoons of chili powder
1 teaspoon of cumin
1 teaspoon of paprika
½ teaspoon of cacao powder
Dash of cinnamon powder
Salt and Pepper to taste
Splash of Coffee (I use this to deglaze the pan, you could also use a stock you've made or some water, coffee compliments the flavors well though!)
Directions:
Use meat cooked in advance.
Melt the coconut oil (use a healthy fat of your choice) to the pan (I used a cast iron skillet) and add the onions, pepper, and garlic. Sauté for several minutes.
Add the Mexican Seasoning ingredients down to the salt and pepper. Stir to combine evenly.
Add meat and stir.
You likely now have some of the seasoning sticking to the bottom. Add the splash of coffee, just enough to get all of the seasoning loose. When the spices from the bottom of the pan are mixed in, allow the small amount of liquid to cook off.
Tear off pieces of lettuce and place the seasoned meat mixture into the lettuce like a taco. If you'd like, put some of the Easy Green Salsa on top, Enjoy!
-Dr. Jared Thomure