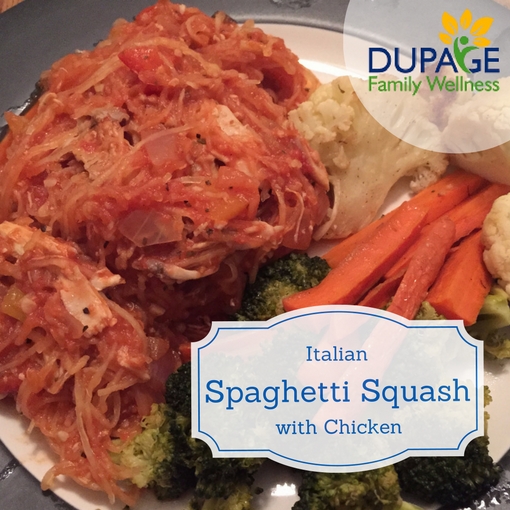 A delicious nutrient dense substitute for pasta
Last week on the blog I discussed how excess processed carbohydrate intake can result in weight gain or hamper your weight loss efforts. Well this week, I've got a recipe for those of you looking for a substitute for pasta.
So lets look at the carbohydrate breakdown.
1 cup of cooked spaghetti- 42 grams of carbohydrates
1 cup of cooked spaghetti squash- 10 grams of carbohydrates.
I don't know about you, but I like to eat a lot of food! If I were eating pasta, I would likely consume even more than 1 cup of pasta! This could mean 60-80 grams of carbs from the pasta at one meal alone! Remember last week, we discussed how for most people, unless you are super active, consuming over 150 grams/carbs will result in weight gain. If I am eating something like spaghetti squash, I can eat as much as I am hungry for without feeling like I need to use strict portion control.
There is more to the story than carbohydrates. Here is an article that dives a little more into the other benefits of spaghetti squash!
Ingredients
1 Spaghetti Squash
1 tablespoon of Extra Virgin Olive Oil or Coconut Oil
1 onion, diced (white, yellow, or red, your preference)
1 pepper, diced (green, yellow, red, or orange, your preference)
1 tablespoon of minced garlic
1 large can of tomatoes (crushed or whole peeled, if you do whole peeled, place into blender or food processor to crush prior to using)
1 tablespoon of dried oregano
½ tablespoon of dried basil
1 pound of Cooked Chicken, chopped
Salt and Pepper to taste
Directions:
Bake the spaghetti squash:
This can be done earlier in the week to make the recipe come together faster. Preheat oven to 375 degrees. Stab 3 slits into the spaghetti squash and place onto a baking sheet or oven safe cookware. Bake for approximately 1 hour (may require more times for a larger spaghetti squash.) Allow to cool before cutting in half length-wise, removing the seeds from the middle, and scooping out the spaghetti squash (FYI: If you haven't had spaghetti squash before, the part you are scooping out looks like spaghetti noodles, pretty awesome!)
Make Tomato Sauce:
1) In a pot, heat 1 tablespoon of Oil over medium-high heat
2) Add onion, pepper, and garlic. Sauté for 2 minutes
3) Add oregano, basil, salt and pepper
4) Add tomatoes. Bring to slow boil, reduce heat and simmer. You can simmer from 20 minutes to an hour, depending on your time.
Bring It All Together:
Add chicken (or protein of choice) and spaghetti squash to the sauce, stir, and it's now ready to enjoy!
You could substitute other proteins in for the chicken (shrimp, scallops, fish, pork) and add additional vegetables to the sauce. Use your imagination, use what's in season in your area, and use what you like! Serve with a side of roasted vegetables if you want!
Let me know what you think over on facebook!
-Drs. Jared and Jamie Thomure
---