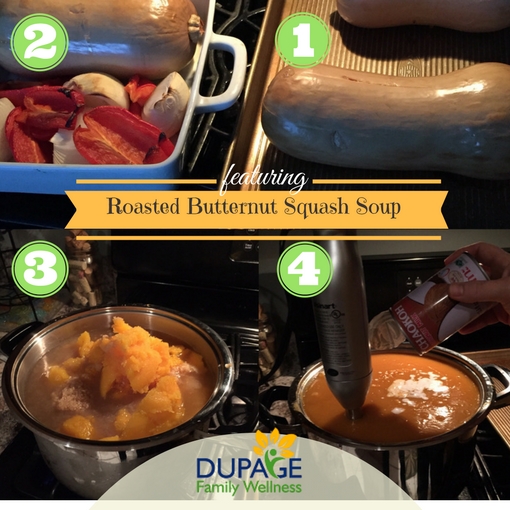 One of our most commonly made foods lately has been soup. We make at least one large pot a week if not two. Soup is something that I used to be totally intimidated by and didn't know where to start. I have come to realize that they are delicious, really good for you, hard to screw up, and the options are endless in terms of which veggies, meat, and/or spices that you use. This week I have a butternut squash soup recipe for you! Enjoy!
Ingredients:
2 butternut squash (I would say they are medium sized)
2 white onions, quartered
2 red peppers, quartered
1-2 tablespoons garlic, minced
2 tablespoons curry powder
1 tablespoon ginger powder
1 teaspoon turmeric powder
½ teaspoon cinnamon
½ teaspoon nutmeg
Salt and Pepper to taste (I feel like soups usually need more salt than I would think to bring out the flavors, taste as you go, you can always add a little more)
Chicken Stock (about 4 cups- enough to cover vegetables in pot)
1 can coconut milk
Directions:
Preheat oven to 375 degrees.
Pierce the butternut squash several times with a kitchen knife and place it whole onto a baking sheet. Bake for approximately 1 hour.
Add quartered onions and red peppers with 30 minutes remaining.
Allow the butternut squash to cool for 30 minutes to 1 hour for handling.
Half the butternut squash long ways, remove seeds, and scoop out the squash with a spoon into a large pot. I remember thinking this was difficult the first time I did it, but now it is much easier. Just be patient, it's worth it!
Add the roasted onions and peppers, garlic and the spices.
Add enough chicken stock to cover the squash and simmer for approximately 30 minutes.
Remove from the stove top and blend with an immersion blender (easier) or pour in batches to a regular blender if that is what you have.
Add coconut milk and continue blending until smooth.
Enjoy!
Dr. Jared Thomure
---