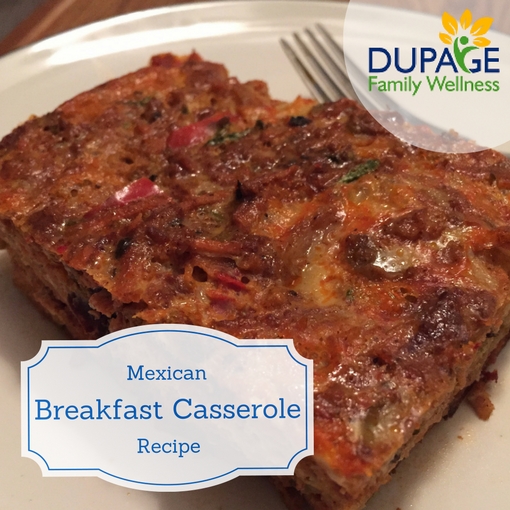 Ingredients:
12 eggs
1 pound of chorizo sausage
1 medium onion, diced
1 red pepper, diced
1 tablespoon minced garlic
2 carrots, shredded
2 zucchini, diced (you could also use yellow squash or calabacitas (Mexican squash)
1 tablespoon of chili powder
1 tablespoon of paprika
1 tablespoon of cumin
1 tablespoon of oregano (I used Mexican oregano that we had)
¼ teaspoon of cinnamon
Salt and pepper to taste
Directions
Preheat the oven to 375 degrees.
Brown the chorizo sausage in a pan over medium-high heat as you would a breakfast sausage (I smoked the chorizo for 2 hours in my smoker with hickory wood, so I skipped this browning stage).
Add the onion, pepper, garlic, carrots, and zucchini. Add all spices and sauté for several minutes.
Transfer the sausage and vegetable mixture into an oven safe 9x13 baking dish (I use a glass one that has a plastic snap on lip for storage later).
In a separate mixing bowl, scramble 12 eggs well (I add in a couple of tablespoons of water, usually 2 or 3, to help with fluffiness).
Add salt and pepper to the eggs, and pour the scrambled eggs over the sausage and vegetables. Make sure the eggs are spread evenly throughout
Place the baking dish on the center rack in the oven. Bake at 375 for 40 minutes. (Ovens temps vary, if you aren't sure about yours, check the casserole at 35 minutes,.You can always add more time!)
The casserole is now ready to enjoy!
We make this on Sunday afternoon, and put in the refrigerator. We usually cut the casserole into eighths, and we have breakfast for 4 days for 2 people.
Dr. Jared Thomure
---