"I never thought I could do this, but with all the information and support, it went by really fast and I feel great! You have changed my life and I thank you for that!"
"Since I did The RESTART® Program I'm off of two medications; one for asthma and the other for acid reflux.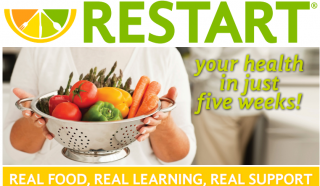 I can't tell you how excited I am about this!"
These are just a few things people are saying about the RESTART® Program.
What is The RESTART® Program?
RESTART® is a 5-week program with a 3-week sugar detox built into it. Part nutritional class, part sugar detox, and part support group, it is a powerful and empowering combination for success!
Are You Ready?
Side effects of the The RESTART® Program may include (but are not limited to):
Weight loss

Better sleep

More energy

Boosted Immunity

Reduced cravings for sugar and starchy carbs

Mental clarity, calmness and even temperament

Reduced PMS and menopausal symptoms

An appreciation for the taste of REAL FOOD!
You will also learn:
How to prepare mentally, physically, and emotionally to make successful changes to your diet.

How Digestion is supposed to work and simple ways to enhance yours.

What sugar really does in your body, the stages of dysglycemia (Hypoglycemia, Hyperglycemia, Insulin Resistance, Type

2 Diabetes), and effective ways to reduce your risk of these conditions.

The truth about FATS and why healthy fats are essential for healthy Blood Sugar Regulation, as well as your general good health. You will learn which fats to eat, which fats to avoid, and why!

How to move forward from the sugar detox and re-introduce foods in a healthful way back into your daily diet.
The next 5-week class begins Monday, October 26th from 7-8:30! Click HERE to learn more and sign up. Want to take RESTART® but can't do Monday nights? Email This email address is being protected from spambots. You need JavaScript enabled to view it. today as more class times are pending.