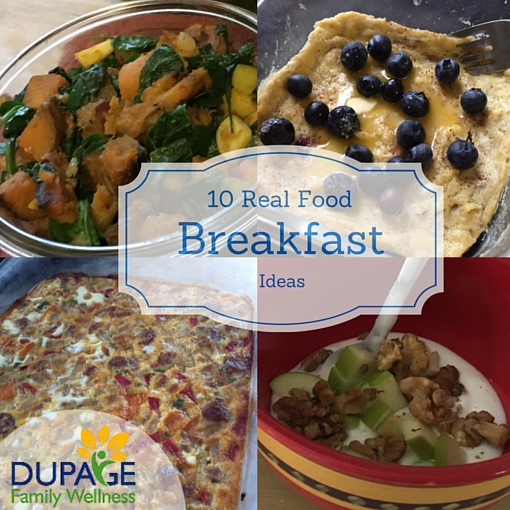 Once you decide to eat real, unprocessed foods, breakfast can be a roadblock. Most people are pressed for time in the morning, but still want a quick and easy, yet satisfying breakfast. In light of this, people routinely turn to milk and cereal as a quick option. Keep reading for some better ideas.
What's wrong with cereal and milk?
There are 2 big reasons to avoid the standard milk and cereal breakfast.
Cereal is not a "real food". Read the ingredient label on any cereal box, even the whole grain and organic varieties. The list usually includes some form of added sugar, along with 20-30 ingredients, many of which you cannot pronounce.
Cereal is primarily carbohydrates, which your body converts to glucose (sugar). This is a quick burning source of fuel that gives you a surge of energy, but it only lasts for a couple hours and then your are starving and tired again. You might find yourself heading to the break room for more coffee and a pastry. To avoid that crash, breakfast should include the long burning fuel sources provided by proteins and fats. This will keep you satisfied until lunch.
What About Oatmeal?
Steel cut or old-fashioned oatmeal passes the "real food" test, but it is a "filler" like rice or potatoes, that contains mostly carbohydrates (56 grams in a cup), and not many other nutrients. Although oatmeal is better than processed cereal, you may find that it does not have the fat and protein to keep you satisfied all morning. Read more about the pros and cons of oats.
The flavored oatmeal that comes pre-packaged in single servings is NOT real food. It contains many artificial ingredients, added sugars just like other pre-processed cereals.
What About Eggs?
Traditionally, the recommendation has been to avoid eggs to keep your cholesterol down. Eggs have gotten a bad rap, but that is being reversed by current research. See Dr. Thomure's explanation of why you do not need to fear eggs.
Top 10 real food breakfast ideas:
10) Leftovers from the night before. While unconventional having soup or leftover meat & vegetables for breakfast is a good way to start the day.
9) Two-ingredient Banana and Egg Pancakes. (A quicker method that makes a custard like concoction is to microwave the same ingredients. Mix the 2 eggs and 1 banana in a microwave safe bowl. Cook for 1 minute on high power. Stir, mixing the cooked edges into the mixture. Cook 2 additional minutes on power 5. Serve with butter, and top with blueberries or strawberries. Yum!)
8) Ham and Egg Breakfast Cups - a super simple and delicious breakfast idea.
6) Breakfast Hash topped with an egg. (My favorite combo is sweet potato, spinach, onions, and a granny smith apple.) When the skillet is almost cooked, break one or more eggs on top and cover as it finishes cooking.
5) Full fat, PLAIN yogurt topped with fruit and nuts. You can even make easily make your own yogurt!
4) Avocado Egg Cups - a great way to incorporate healthy fats to keep you going all morning
3) My favorite Banana Bread or Muffins. Top with butter or a nut butter to make it more filling.
2) Homemade Energy Bars - Make ahead for grab and go breakfast.
1) Egg Casserole. This is our standard breakfast. I make it at the beginning of the week. I love it because it's quick to reheat and an easy way to get eggs and veggies in the morning!
What are your favorite real food breakfasts?
Joelle Kurczodyna, NTP
---