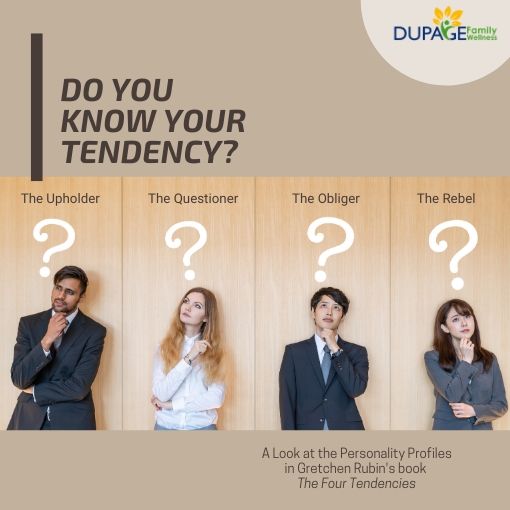 In her book the Four Tendencies, Gretchen Rubin lays out a framework that describes how different people respond to expectations. To begin with, she explains the two kinds of expectations we face:
Outer expectations are those that are put upon us by others. Things such as meeting a deadline at work, or obeying traffic regulations would be considered outer expectations.
Inner expectations are the expectations we put upon ourselves. They are the type of goals we think of when we make a New Year's resolution (to eat healthy, exercise, get more rest, etc.).
What are the four tendencies?
gretchenrubin.com
The Upholder
"I do what others expect of me - and what I expect from myself."
Respond well to both outer and inner expectations.
Do well with schedules and to-do lists
Want to know expectations and meet those expectations. Struggle when expectations aren't clear.
Avoid making mistakes or letting people (including themselves) down.
Are reliable & self-directed.
Strongly desire to meet their own expectations which protects them from burnout.
May be rigid & struggle with last-minute change.
Embrace habits
Relentless in pursuit of goals.
Note: Upholders and obligers have a lot in common as they both meet external expectations. However, few people are truly upholders, while many are obligers. The key difference between the two is whether one meets the expectations they impose on themselves. Upholders meet internal expectations, while obligers struggle with them.
The Questioner
"I do what I think is best, according to my judgment. If it doesn't make sense, I won't do it."
Question all expectations
Only respond to expectations if they make sense
Are motivated by reason, logic, and fairness.
Resist things that lack purpose.
Tend to be intellectually engaged and willing to research.
Struggle with things that are arbitrary, inefficient, or ineffective.
Take direction only from people they respect.
Relentlessly desire information and justification.
May come across disrespectful, defiant, or undermining.
May find it difficult to make a decision and suffer from "analysis-paralysis."
Consider their actions carefully, but find it tiresome to justify their decisions to others.
The Obliger
"I do what I have to do. I don't want to let others down, but I may let myself down."
Meet outer expectations, but struggle to meet inner expectations.
Are motivated by external accountability.
Excel with external demands and deadlines.
Make terrific colleagues, leaders, family members, and friends.
Are reliable for others, but can struggle to meet their own goals.
Need external accountability even for activities that they want to do.
Struggle with self-care.
May attribute behaviors to self-sacrifice or a lack of self-esteem, but may simply need accountability.
Are susceptible to burnout.
Struggle to say "no" and set limits.
May burn out, resulting in "obliger-rebellion" where they abruptly refuse to meet an expectation.
The Rebel
"I do what I want, in my own way. If you try to make me do something - even if I try to make myself do something - I'm less likely to do it."
Resist all expectations, both outer and inner.
Act from a sense of freedom.
Resist habits.
Place a high value on authenticity and self-determination.
Work toward their own goals in their own way.
Seek to live up to their own identity and their values.
Often frustrate others, because they can't be told to do anything.
Aren't persuaded by external pressure.
Often do the opposite of what they were told to do.
Resist control, even self-control.
Enjoy flouting rules and expectations.
Struggle with supervision, advice, directions, reminders, and nagging.
Prefer spontaneity to schedule, routines, and repetitive tasks.
What's Your Tendency?
Understanding your tendency can be extremely valuable. According to Rubin, "When we understand ourselves and how our Tendency shapes our perspective on the world, we can adapt our circumstances to suit our own nature - and when we understand how other people's Tendencies shape their perspective, we can engage with them more effectively."
If you are interested in learning more about your Tendency, you can take this online quiz.
I love learning about what makes us tick, both emotionally and physically. This way of looking at how we respond to expectations makes so much sense.
Are there other personality types that you've found interesting? If so, I'd love to hear what they are.
Dr. Jamie
---