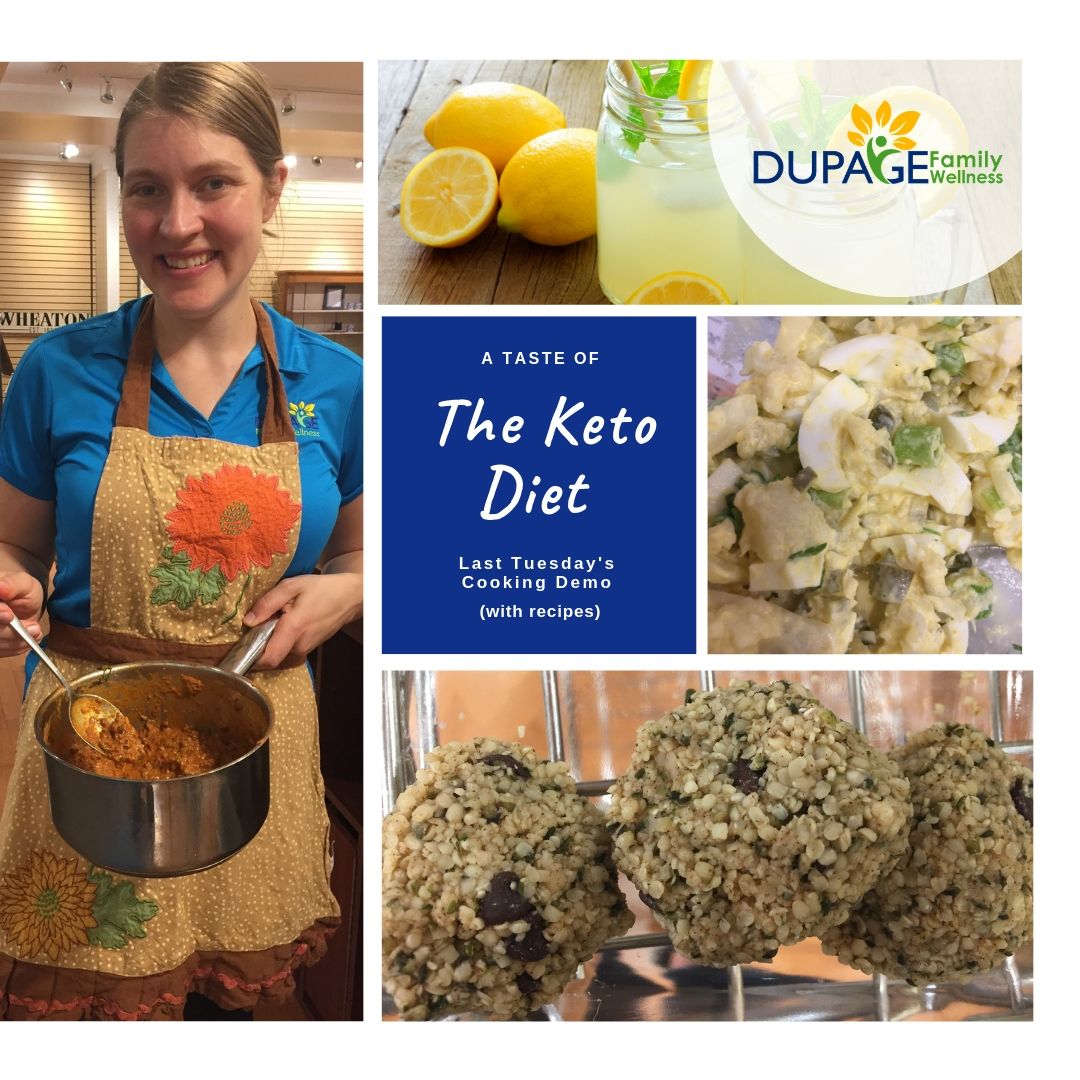 We had so much fun cooking, eating, and talking about the Keto diet on Tuesday night at Prairie Path Books! The discussion was wonderful, and everyone loved the recipes from Leanne Vogels book, The Keto Diet.
What's Special About This Book
Why did I choose this book out of all the Keto books on the market? There are a number of reasons that this book stands out to me.
The recipes are based on a variation of the Keto diet that relies on healthy, non-processed, whole foods (think Paleo).
She recognizes that each body is unique and provides resources to find the right "path" for your body.
She provided four weeks of meal plans and shopping lists for each path.
She uses leftovers in the meal plans, so you are not constantly cooking.
Her balanced approach is refreshing. She focuses on lifestyle change, not dieting!
What Was On The Menu
We had samples of a salad, entree, side, dessert, and a drink.
The "Berry Avocado Salad" was a lovely salad that used parsley and cilantro instead of lettuce. The homemade dressing brought it together beautifully.
The "Bombay Sloppy Jolenes" were spicy and delicious. They can be served in a lettuce wrap, but we thought it would be less messy to eat them with a spoon.
"Potato Salad... That Isn't" this unique dish is made from cauliflower and pickles, but don't let that deter you! Many people who do not care for either still enjoy this dish.
"Keto Lemonade" is a perfect summer drink with lots of naturally occurring electrolytes!
One of My Favorite Quotes
Leanne Vogel's attitude towards food and dieting are refreshing! She seems to view healthy eating as a form of self-care. There is no pressure to be perfect on a diet, in fact she wants you to have freedom from the diet. I love that her focus is freedom & embracing life, rather than strictly following the rules of a diet.
"It's estimated that two in five women are dieting all the time. I don't want to be one of those people. I don't want to use an app to count calories in a restaurant in the South of France while my husband waits for me to figure out what to order. I don't want to skip my little sister's wedding cake because it's over my carb allotment for the day. I don't want to pass on an evening around the fire making s'mores in fear that I'll lose control and eat all the chocolate. I don't want to miss out on life because I'm on a diet." - Leanne Vogel

The Keto diet is not for everyone but may be a healthy choice for many people. Whether you are keto or not, it is important to focus on healthy, non-processed, whole foods. I highly recommend this resource for all those who are considering the Keto diet!
Dr. Jamie
P.S. We would love to see you at future cooking demos!
---
Dr. Jamie will cook from Whole Detox by Dr. Deanna Minich
Tuesday, July 2nd, 7:00-8:30
Experienced researcher and practitioner Dr. Deanna Minich discovered that to achieve true health and wellness, we must address all of the toxic elements in our lives. Whole Detox offers a proven plan to uncover the obstacles that prevent you from feeling your best. Following Dr. Minich's systematic, step-by-step twenty-one-day journey through all seven systems, you can remove toxins, lose weight, repair existing health issues, boost energy, improve relationships, and find purpose and passion.
$35/demo + $15 shopping credit included!
*Call Prairie Path Books to reserve your spot now (630) 765-7455!
---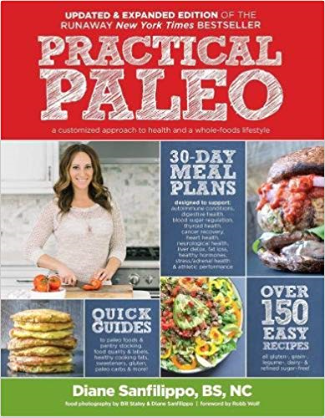 Dr. Jamie will cook from Practical Paleo by Diane Sanfilippo
Tuesday, Aug 6th, 7:00-8:30
Dubbed "The Paleo Bible" by readers, Practical Paleo explains how simply eating real, whole foods and avoiding processed, refined foods can improve our health—including reducing or even eliminating symptoms associated with common health disorders.
With 30-day meal plans, and tons of recipes, Practical Paleo has proven to be the resource people reach for again and again for information on healthy living, delicious recipes, and guidance on changing your diet to improve your health.
$35/demo + $15 shopping credit included!
*Call Prairie Path Books to reserve your spot now (630) 765-7455!
---