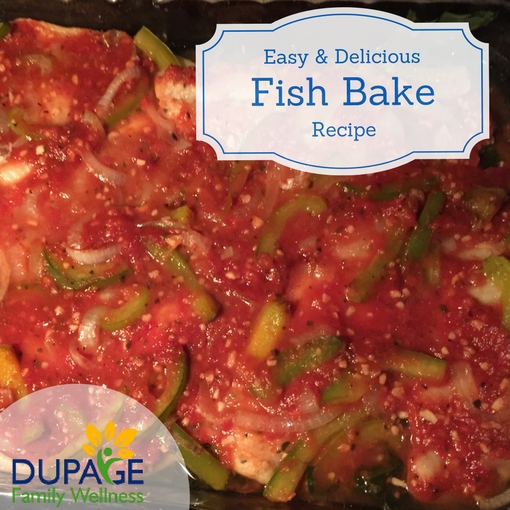 A few weeks ago, Jared made us this delicious fish bake for dinner. The best thing about it was how simple it was. It was a little different than typical dinners that we make, and he was able to throw it together quite quickly after a long day at work.
Ingredients:
1 ½- 2 pounds of fish filets (Tilapia, Swai, or similar fish of your choice)
1 bunch of fresh spinach, chopped
1 large onion (or 2 medium) sliced
1 green pepper (or red, orange, yellow) sliced
2 cloves of minced garlic (about 2 teaspoons if you have minced garlic already)
Salt and Pepper
Tomato Sauce:
1 can of tomato sauce
1 teaspoon of minced garlic (or to your taste)
½ teaspoon of dried oregano
½ teaspoon of dried basil
Salt and Pepper
Instructions:
Preheat oven to 375.
Combine all ingredients for tomato sauce in a small pot over/ Heat over low-medium heat, stirring occasionally.
In a separate pan, saute onions, pepper, and garlic, Add salt and pepper to taste.
In a 9x13 pan, spread the chopped spinach. Place the fish on top of the spinach, trying not to overlap the fish.
Spread the onion, pepper, and garlic over the fish.
Add the tomato sauce and spread evenly over the top.
Bake in the oven for approximately 20 minutes. Check fish to see if it is flaky and done, may need additional time depending on type of fish and thickness.
Enjoy!
Dr. Jared