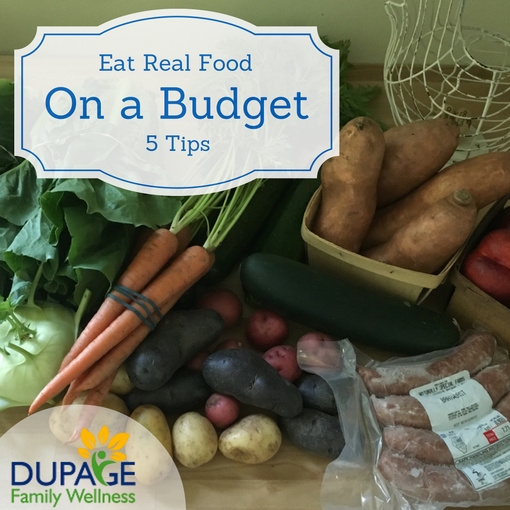 I have a confession to make. Four years ago, I was a couponer, and we ate the Standard American Diet (SAD) full of processed, convenience foods. I got home from the grocery store, proudly spread my purchases on the table, and made my husband guess how much I paid for everything. I could buy a table full of "food" for just a few dollars. I now understand that this "food" was not really food at all, but chemical fillers with few nutrients. The "food" was cheap, but when I think about the long term effect on our health, it was NOT really cheap.
When we switched to eating a real, whole food diet I was concerned about how much it would cost. As an extreme couponer, I got most processed foods for almost free, but there are few, if any, coupons for fruits, vegetables, or meat. If you are not an extreme couponer, processed, packaged foods are expensive.
When you switch to a real food diet, you will spend more produce and meat, but you will no longer need to buy the processed foods.
For example:
Buy a bag of carrots rather than a bag of chips
Buy a dozen eggs rather than a box of pop-tarts
You get more nutrients per dollar when you buy real food compared to processed food containing fillers and few nutrients.
We've been able to eat real food on a tight budget. To break it down, here is the monthly grocery budget for our family of two:
$100 for meat from a CSA at Walnut Acres Farm. (They are wonderful people. If you sign up, tell them Joelle sent you!)
$250 for everything else (fruit, veggies, and other staples). I take this money out as cash each month, so I know exactly how much I spend and do not exceed that amount.
For the month of July, I challenged myself to shop local. I shopped only at farmers markets and a small health food store within walking distance. Why? If you go back to reading the post "Should I Buy Organic Produce?". I realized that the absolute best option for our health is to buy locally and sustainably grown food. As an added bonus, this benefits the local community and the environment. It was not that difficult to shop local in July, and I plan to continue this challenge.
Now, back to the budget. With a little creativity, I can stick to my new shop local policy and stay within the budget. You can do this too! Here are a few tips to help you stretch your dollar:
Buy what is plentiful and in season. Whether you are at the grocery store or a local farmer's market, you will notice that there is an abundance of the items that are in-season, and the price of these goes down to sell them while they are fresh. These are the bulk of the items that I buy. In July, we ate a zucchini, a variety of greens, cabbage, onions, kohlrabi, broccoli, and cucumbers. Although, I mainly stuck with these less expensive, in-season foods, I supplemented them with a few more expensive items like berries, potatoes and carrots. The beauty of buying in-season is that as the weeks go by and the seasons change, the in-season foods are also constantly changing. Although we've been eating zucchini now, I know that that soon there will be an abundance of tomatoes and not long after that winter squash will be in season.
Use all of what you buy. A great way to stretch your money is to eat the entire edible portion of what you buy, without letting any go to waste. For example, in our recent seasonal spotlight on beets, you will notice that the recipe included both the beets and the beet greens. Add items that you aren't sure what to do with to a stir fry or soup. If it's a vegetable try roasting it (see "Making Vegetables the Taste Good").
Don't be afraid to try new foods. Prior to this challenge, I shopped at Aldi. While there are a lot of things that I like about Aldi, I was stuck in a rut when it came to buying produce. Along with the idea of point #1, often the things that are cheaper may not be the things that we are used to buying or even think that we like. I've been pleasantly surprised when I tried radishes, rutabagas, kohlrabi, and a variety of greens this month.
Buy in bulk when appropriate. Buying in bulk can save you money if the items freeze well. I specifically noticed this with berries. I could buy a very small container of blueberries for $3-$4 or I could buy the 5 lb box for $15. I opted for the 5 lb box and immediately portioned out what I thought we'd eat for the next few days and put the rest in the freezer. Now we are able to enjoy blueberries all month and a fraction of the price, I am actually snacking on some frozen blueberries and walnuts right now. Keep point #2 in mind and only buy and freeze items that you know you will eat, so the food does not go to waste.
Get to know your farmer. One of the reasons that we did the shop local challenge was to connect with local people that grow the food that we eat. Once you build that relationship, you might be able to barter services for veggies, purchase the less pretty and therefore less desirable produce at a lower price, or buy leftover produce for less at the end of the day. Even without these advantages, I feel so much better knowing where my food comes from, and I am excited to directly support the people that are growing and raising my food.
I'd love to hear about tips and tricks that you have found to save money on your food bill! Connect with us on facebook.
Joelle Kurczodyna, NTP
@kfamilygoessustainable on Instagram
---